My Dad Just Texted From Across The Table
This submission is currently being researched & evaluated!
You can help confirm this entry by contributing facts, media, and other evidence of notability and mutation.
About
My Dad Just Texted From Across The Table refers to a series of image macros depicting a text message conversation between father and child from across a table. Variations of the meme change each element, including caption, message and picture.
Origin
On October 14th, 2014, Twitter user @andrewrivas posted a text message exchange between him and his father. Captioned "my dad just texted this to me from across the table," the tweet featured the text message, which reads, "Who s your daddy? on the right and a picture of a man, supposedly his father, with a mischievous smile on the left. Within three years, the post (shown below) received more than 44,000 retweets and 70,000 likes.[1]

Spread
The following day, the meme accounts @bestoftext[2] and @chloeonvine[3] shared the tweet, where it received, in total, more than 1,900 retweets and 4,000 likes in two years.
The format continued to be popular through the the next year, as people began posting the format and swapping out the picture of the father with another image (examples below).


Three years later, a variation on the meme appeared on Twitter. On January 9th, 2017, Twitter user @vx1k posted the image of the father with the caption "I hate my dad so much" and the text message "You heard me hitting that last night."[4]
This version was later posted by the Instagram account @onebrokeperson with the caption "WHOS DAD IS THIS" on April 22nd. The post (shown below) received more than 10,000 likes.

Various Examples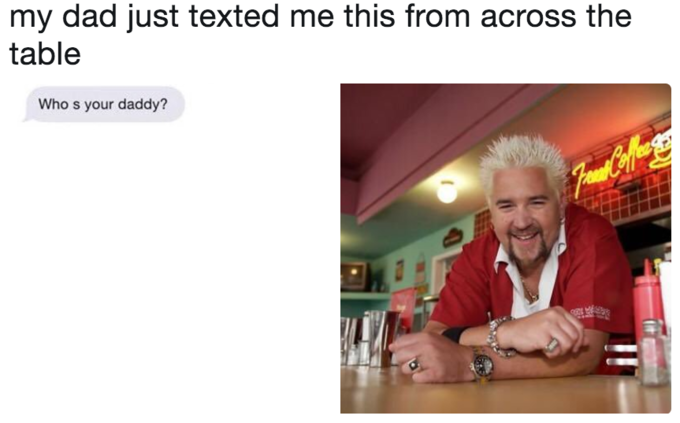 Search Interest
External References
Recent Videos
There are no videos currently available.