Overview
Ryan Beckford is a comedian and a musician primarily known for creating multiple popular Vine videos. Online, an image of Beckford using a toy laptop, known as Black Hackerman, has been circulated as a reaction image.
Background
In May 2014, Ryan Beckford uploaded his first now-deleted video to Vine.[1] As of December 16th, 2016, Ryan Beckford accumulated over 90,000 followers on the platform.
Between May 2014 and December 2016, Beckford uploaded multiple sketches and skating videos to the platform. On November 2014, Beckford posted a now-deleted Vine titled "WHEN YOUR MOM PACK YA LUNCH AND ITS TRASH",[2] which was later reported to be one of his most popular videos.[1] On March 23rd, 2016, Beckford reuploaded the video,[3] which has since gained over 344,000 loops.
Related Memes
Black Hackerman
On December 23rd, 2014, Ryan Beckford tweeted several images of himself using a toy laptop.[4] The post gained over 1000 retweets and 1,600 likes in five years.
WHEN YOU ON PORN AND HEAR THE DOOR CRACK OPEN AND TRY TO EXIT BUT IT FREEZE pic.twitter.com/mPlBbvrluj

— Rb94 👵🏽🔪 (@Rybeckford) December 23, 2014
On December 21st, 2016, an anonymous 4chan user posted an edit of the image in which the background was replaced with lines of green-lettered computer code.[5]


In the following months, the image was circulated on 4chan as a reaction.[6][7] On April 8th, 2017, Redditor JavedLeMemer made a post using the image in /r/dankmemes subreddit, where it gained over 18,100 upvotes in six months.[8]

In the following years, the image saw moderate use on Reddit, with notable posts in /r/dankmemes,[9] /r/historymemes[10] and other communities.
On April 8th, 2019, Reddit user SlenderManArmy posted a meme containing the image to /r/dankmemes subreddit, where it gained over 21,400 upvotes in three days.

In the following days, the image gained significant popularity on the platform.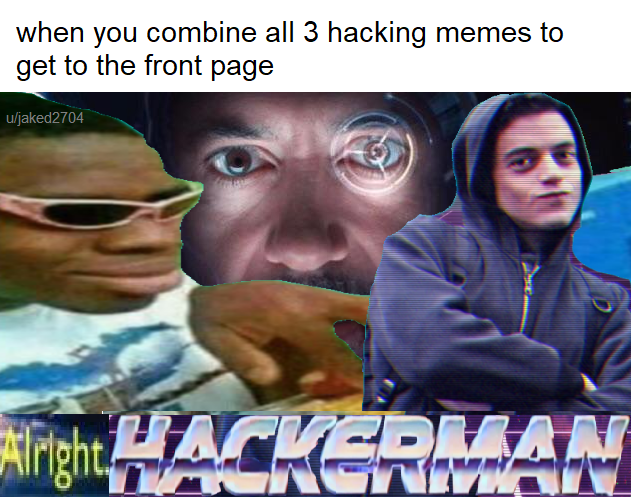 Search Interest
External References
Recent Videos
There are no videos currently available.