About
Rantsona, a portmanteau of "Rant" and "Persona," is a slang term given to online personas used in YouTube reaction videos featuring rants or controversial topics. After a couple of screenshots from reaction videos with furry personas went viral on Twitter in March 2019, the type of videos quickly gained more attention.
Origin
It is unknown where specifically the term "rantsona" originated from, although the context of the term has been consistent since the start. The earliest found examples in a Twitter post by @minkyew[1] on September 12th, 2018 and Redditor[2] operativehog on October 30th, 2018.
Spread
On March 24th, 2019, Twitter user @SeanRMoorhead[5] posted a screenshot of a furry YouTube channel Esoteric The Free taking a controversial stance on the 2019 Christchurch Shootings (shown below). In the next 5 days, the tweet managed to gather over 1,000 retweets and 5,300 likes. Replies to the tweet also feature screenshots of the channel reacting to the controversy the tweet sparked.

On March 26th, 2019, Twitter user @homomilkkk[3] posted a tweet reading "the 4 horsemen of the apocalypse". The tweet was accompianed by 3 more screenshots with fursonas commentating on yiff, pedophilia and forced diversity (shown below). In the following 3 days, the tweet managed to gather over 3,400 retweets and 11,800 likes. The same four images were also posted to Twitter by user @verysillymarisa[4] a few hours later, which gathered over 1,800 retweets and 6,000 likes with the question on how to nickname the screenshots.



In the days after, various photoshops and tweets were made using the above 4 YouTube channels and other related channels. On March 27th, Twitter user @smurfdanceparty posted a photoshop featuring the above personas together in a room (shown below, left), gathering over 1,750 retweets and 8,800 likes. Later that day, Twitter user @Abraham0Link did the same with an additional fursona (shown below, right), gathering over 1,000 retweets and 3,800 likes.


Various Examples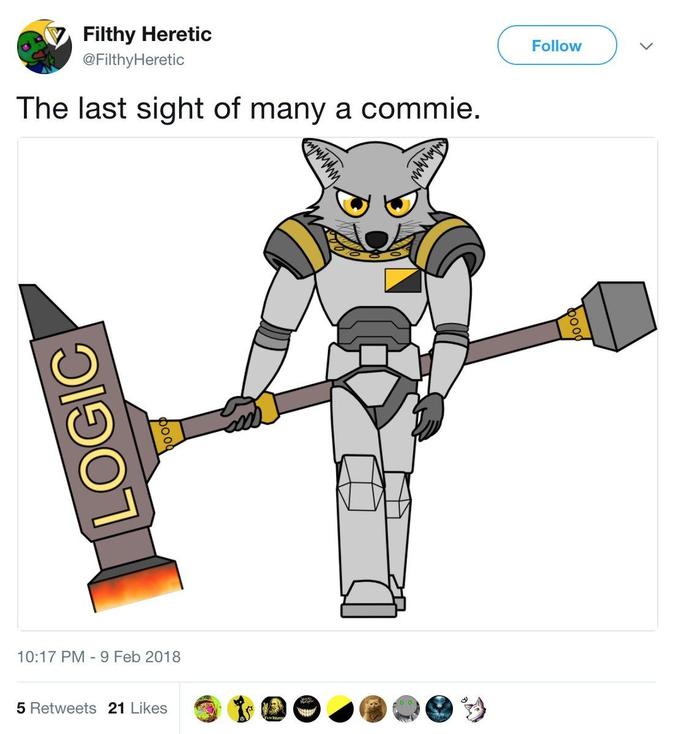 Search Interest
Unavailable
External References