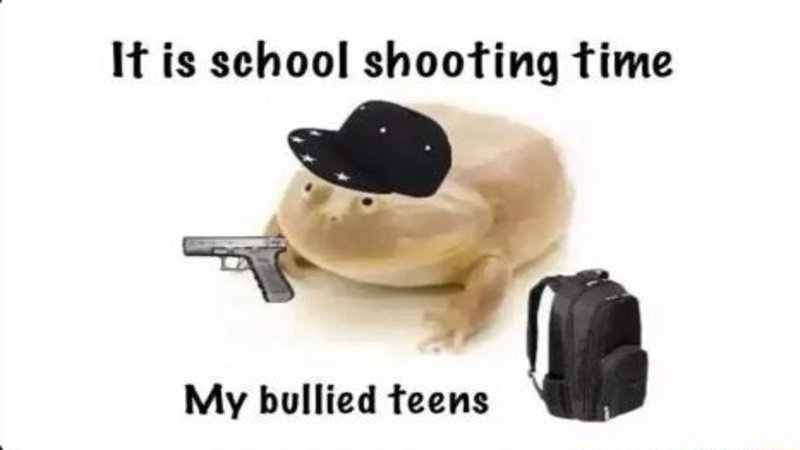 Warning: This page contains material that may be considered not safe for work.
About
School Shooter Memes refer to image macros containing jokes and references to the perpetrators of various shootings that have occurred at high schools across the United States.
Origin
On October 5th, 1999, a "canonical list of Columbine Jokes" was submitted to the alt.tasteeless.jokes newsgroup on Usenet,[1] which contained various jokes related to Colombine High School shooters Eric Harris and Dylan Kleblod, who killed 15 people and injured another 24 earlier that year on April 20th.
Spread
Follow the Sandy Hook Elementary School Shooting carried out on December 14th, 2012, image macros about the deceased shooter Adam Lanza circulated online (shown below).


On October 24th, 2014, Imgur user lazyfuckatwork submitted a The Would Be Great image macro with the caption "Yeah, if all the school shootings would stop / that'd be great" (shown below).

On February 8th, 2017, the /r/schoolshootermemes[2] subreddit was created. On August 13th, the Ldub_ Memes YouTube channel uploaded a compilation titled "Best School Shooter Memes Compilation" (shown below).
Related Memes
Thoughts and Prayers
"Thoughts And Prayers" is an expression of sympathy typically offered toward the victims of large-scale disasters and tragedies. Online, the phrase has been widely denounced as a platitude used in place of meaningful action, particularly in reference to politician responses to mass shooting events.

Pumped Up Kicks
"Pumped Up Kicks" is an indie pop song by the band Foster the People, which was originally released as the band's debut single in September 2010. The song's lyrics are written as a monologue from the perspective of a homicidal teenager, who fantasizes about murdering other youths with "pumped up kicks" with a gun. Online, the song has been used in numerous remix videos about school shootings.
"Sam Hyde Is the Shooter"
Comedian Sam Hyde has been a target of a hoax campaign in which his name is invoked as a possible suspect in a number of major gun violence incidents across the United States since 2015, including the shootings in San Bernardino, California, Kalamazoo, Michigan, Hesston, Kentucky, Minneapolis, Minnesota, the Planned Parenthood clinic in Colorado Springs, Colorado, the U.S. Naval base in San Diego, California, the U.S. Air Force base in San Antonio, Texas, among many others. In July 2016, Hyde was once again falsely attributed by several European news outlets[18] as a suspect in the shooting spree at a shopping mall in Munich, Germany, resulting in the largest spike in search queries of his name to date.
Search Interest
External References