About
King of the Hill is an American animated sitcom created by Mike Judge, who is known for his previous work on MTV's Beavis and Butt-head, and Greg Daniels, who went on to create the sitcoms The Office and Parks and Recreation. The series mainly revolves around the Hills, middle-class Methodists from the fictional small suburban town of Arlen, Texas.
History
The show concept for King of the Hill was conceived by Mike Judge in 1995, loosely inspired by his own past experience of living in suburban Texas. Fox paired him with Greg Daniels who rewrote the pilot, focusing his writing on character development. Judge was so pleased with these rewrites, he gave Daniels a co-creator credit on the show instead of a developer credit usually attributed to assigned writers.[3] The series debuted on January 12th, 1997 as a mid-season replacement, attracting 8.6 million viewers over the course of its first 12 episodes.
The series aired six seasons with Judge and Daniels at the helm, followed by writers John Altschuler and Dave Krinsky taking over in 2002 for the seventh season. This marked a shift in storytelling, as the characters ceased aging and a handful of characters' backgrounds were retroactively changed. Though the tenth season in 2005 was initially intended to be its last[4], the series ran through the 2008 – 2009 season. Though there were initially rumors that the rights to the series would be purchased by another network for another season, Fox opted for syndication, leaving four episodes unaired until May 2010, when they ran in both syndication and on Adult Swim.
Reception
King of the Hill's second season was its most successful, drawing in 16.3 million viewers, making it the 15th most-watched show that year.[5] Throughout its 259-episode run, the series was nominated for dozens of awards, winning eight awards including a BMI TV Music Award, a Prism Award, two Primetime Emmy Awards, and four Annie Awards. In June 2007, Entertainment Weekly[6] named King of the Hill one of the 100 best TV shows from 1983 – 2008.
Fandom
In the late 1990s, two Usenet newsgroups were created for the series, alt.tv.king-of-hill[14] and alt.conspiracy.black.helicopters[15], On October 19th, 1997, one of the first King of the Hill fan site was launched on Geocities[8], offering character descriptions, episode titles and links to other fanmade sites as well as a soundboard[9] that played short clips from the series. Many of these were also hosted on Angelfire[10], including a fanfiction page containing a crossover story about the Hills meeting Beavis and Butt-head (shown below).

In 2003, a thread dedicated to the series was launched on the Television Without Pity[11] forums, which is still active as of October 2013. In August 2004, a fan community for King of the Hill was established on LiveJournal.[7] The King of the Hill Wiki[21] was created in December 2007, accruing nearly 750 pages as of October 2013. The first Facebook fan page[12] for the series was created in December 2008, obtaining more than 190,000 likes in less than five years. A second interest page[13] has generated nearly 1.2 million likes as of October 2013. Throughout 2009, threads on the series were posted on Yahoo! Answers[16], the Playstation Universe forums[17] and SomethingAwful.[18] On March 1st, 2010 the first King of the Hill single topic Tumblr[19] was created, posting quotes, screen shots and fan art relating to the series. That November, the /r/KingOfTheHill subreddit[20] launched, gaining nearly 15,000 subscribers as of October 2013.

Fan Works
Fan fiction and art based around the series can be found on Tumblr under the tag #King of the Hill[22], as well as tags for the characters including #Hank Hill[23] and #Bobby Hill.[24] Additionally, there are more than 9,000 search results for "King of the Hill" on deviantART[25] and more than 100 works of fanfiction on Fanfiction.net[26] and Archive of Our Own[27] combined. The series has also been the subject of dozens of YouTube Poops, with more than 65,000 search results for "King of the Hill Poop" on YouTube[1] as of October 2013.






Related Memes
I Sell Propane and Propane Accessories
"I Sell Propane and Propane Accessories" is a memorable quote uttered several times throughout the series by protagonist Hank Hill. The redundant phrase has evolved into the snowclone "I Sell X and X Accessories" online as early as 2003[2], where it often appears as part of image macros depicting Hill partaking in whatever object or subculture is plugged into the sentence.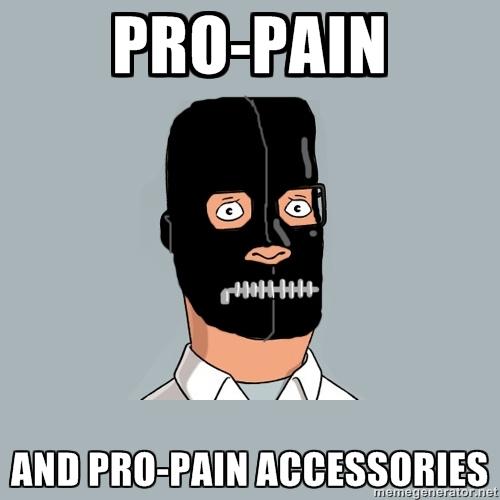 Vidya
Vidya is an intentionally misspelled slang term for video game, commonly used on online image boards and discussion forums in which video games are the topic, most notably 4chan's /v/ (video games) board since as early as April 2007. It was first uttered in this manner by Hank Hill in the March 1st, 1998 episode titled "Hank's Dirty Laundry" (shown below).
Hank Hill Listens to X
Hank Hill Listens to X is a series of parody videos based on the YouTube Poop fad "…While I Play Unfitting Music". These videos use a clip from the January 12th, 1997 pilot episode of the series, depicting Hank taking his son Bobby's headphones and putting them on, learning his son had been listening to a CD of fart sound effects. The first remix of this scene (shown below, left) was posted to YouTube on May 22nd, 2009, featuring accordion music over the fart noises.
Happy Hank
Happy Hank is an exploitable that uses an image of Hill making an excitedly wide-mouthed facial expression from the December 16th, 2007 episode of King of the Hill titled "Dream Weaver." On December 10th, 2009, FunnyJunk users began photoshopping Hill's face onto other images.



Search Interest
External References