This submission is currently being researched & evaluated!
You can help confirm this entry by contributing facts, media, and other evidence of notability and mutation.
About
Imgflip is a meme creator, image uploading, gif generator, and pie chart making site that allows you to create and share memes on a wide variety of social networks. Created in 2008 by Dylan Wenzlau[1], the earliest known date of this site goes back to June 14th, 2008[2], when the site was under private control and has been fixed over the years with minor improvements. On December 1st, 2012, Imgflip becomes a fleshed-out website that now has new features like a leaderboard, easy access links, front page, and a like/dislike bar[3]. Here is what their about page has to say[4]:

Imgflip is a simple and fast website for creating and sharing images. We specialize in memes and GIFs.

The Imgflip image generators are designed to be insanely fast and provide powerful customization, while still being simple and easy to use. Images created on Imgflip can be made "private" if you just want to download the image and save it for yourself, or they can be saved on imgflip.com where you can share them with friends and track their popularity. If you think your images will be appreciated by most imgflip users, you can submit them to be featured. Imgflip users and/or moderators can then vote on your submitted images, and the best ones will make it to the homepage.

You can browse imgflip content in several ways

Contact: general@imgflip.com
History
Oldest Known Meme on Imgflip
Around March 2011, this was uploaded by anonymous featuring Insanity Wolf. As of February 4th, 2021, it has 1,825 views, 56 upvotes, and 107 comments[5].

Most Upvoted Meme
On March 8th, 2019, a meme was uploaded by IListenToALotOfEurobeat (who has since deleted their account) asking users to upvote the meme to "see how many people use Imgflip". It was the most upvoted meme on Imgflip for about a year with a total of 78,578 views, 1,572 upvotes, and 444 comments as of February 4th, 2021[6]. It became the first meme on Imgflip to reach 1k upvotes.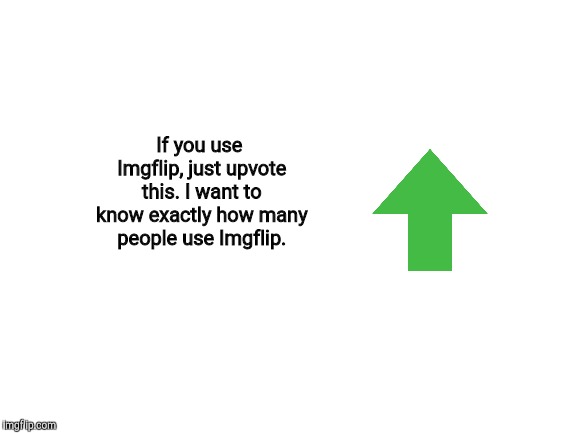 However, it did spark some controversy as to whether the creator's intentions really were to see how many users there were, or just to get upvotes. The creator remains by their original statement when asked if they did such.
Around October 2020, a meme was uploaded by Im_Jahaha with what was speculated to be intentions of capitalizing on Imgflip's upvote culture. As of February 4th, 2021, it is the #1 most upvoted meme on the site, having surpassed its predecessor with 121,787 views, 2,477 upvotes, and 508 comments[7].


Top 20 Users
Community
Kermit Vs. Connery War
On August 25th, 2015, Imgflipper dh413[7] created a feud between Muppet star Kermit the Frog and Celebrity Sean Connery, in honor of Sean Connery's birthday. It has Connery calling out his counterpart in the style of Kermit's But That's None of My Business. As of February 4th, 2021, the meme has 20,664 views, 246 upvotes, and 68 comments [7].

Various Examples





GIFs




Search Interest
External References
Recent Videos
There are no videos currently available.