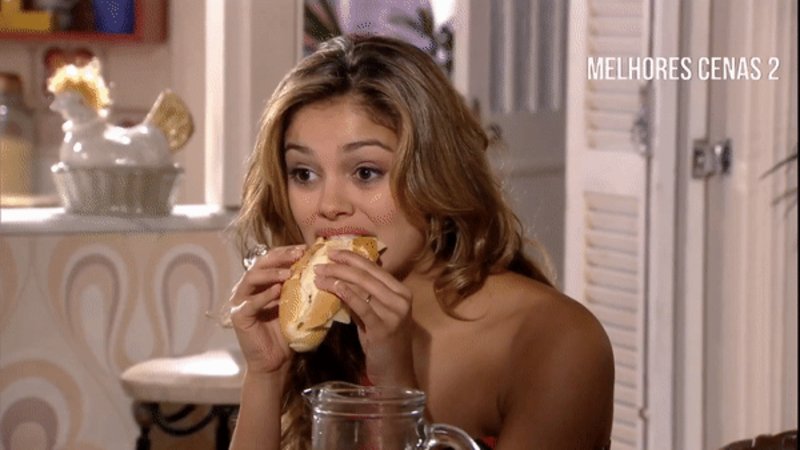 Sophie Charlotte Comendo Pão / Sophie Charlotte Eating Bread
This submission is currently being researched & evaluated!
You can help confirm this entry by contributing facts, media, and other evidence of notability and mutation.
About
Sophie Charlotte Comendo Pão or Sophie Charlotte Eating Bread in English refers to a viral video of the Brazilian actress Sophie Charlotte eating bread during a scene of the telenovela Ti Ti Ti, which aired in 2011. The scene features the actress being slapped in the face while eating the bread and her holding a laugh. After it was reposted in November 2021, the moment became a viral meme, inspiring Photoshopped edits, image macros, and other meme formats shared on social media.
Origin
On February 14h, 2011, the Brazilian telenovela Ti Ti Ti aired an episode in which Sophie Charlotte's character Stéfany is slapped in the face[1] by Elizângela do Amaral Vergueiro (Nicole) while she is eating bread in the living room. The scene was uploaded on YouTube[2] by AndersonTuckmantel on December 22nd, 2021, receiving 6,600 views and 121 likes in two years (seen below).
The actress Sophie Charlotte explained on her Instagram stories that the telenovela director[3] was the one behind the idea of her being slapped in the face while eating.
Spread
10 years later, the telenovela moment gained virality, as Twitter users found it funny that the actress hold a laugh during the intense scene that was supposed to be dramatic, and even had her mouth filled with food. Twitter[4] page @acervonovelas uploaded the scene (now deleted) on November 27th, 2021, inspiring other users to upload Photoshopped edits of the scene. Twitter[5] user @eumanelk posted a reaction meme (seen below, left) of the actress eating bread on the same day, receiving 161 likes and 3 retweets in two years. Twitter[6] artist @diegocsoliveira decided to create a fanart illustration based on the scene during his lunch break on November 29th, 2021. The post (seen below, right) garnered 4,300 likes and 404 retweets in two years.


The meme also received purposely low-quality image variations,[7] like the one posted by @BernardoMarqu3s (shown below, left) and @mazzuela (shown below, right).


Various Examples






Search Interest
External References
Recent Videos
There are no videos currently available.