This submission is currently being researched & evaluated!
You can help confirm this entry by contributing facts, media, and other evidence of notability and mutation.
About
El Chapulín Colorado is a fictional character in the Mexican TV show of the same name that ran from 1973 to 1979 and parodied superhero shows. The show was created by Roberto Gómez Bolaños, who also played the main character, becoming a famous Mexican program that was widely watched across other Latin American countries for decades. The character has inspired numerous memes on social media, being featured in image macros, ironic memes, Photoshop edits and more.
History
On February 28th, 1973, the Mexican television show El Chapulín Colorado[1] ("The Red Grasshopper" or "The Cherry Cricket" in English) aired its first episode on Televisa. The show embodies aspects of Latin and Mexican culture while making a critique on the unrealistic image of superheroes, especially Superman, as the Mexican hero's intro parodies the "Faster than a speeding bullet, more powerful than a locomotive" introduction used for Superman. Chapulín is introduced in the show's opening, focusing on the idea that he is a rather underpowered hero:
Más veloz que una montaña, Más ágil que un refrigerador, más astuto que un aguacate, ¿y quién es? Es……, ¿Una paleta helada? ¿Un clavel? ¿Un cuaderno cuadriculado? ¡No!, Es… ¡El Chapulín Colorado!
(Faster than a mountain, More agile than a refrigerator, smarter than an avocado and who is he? He's… A popsicle? A carnation? A square notebook? No!, He's… The Cherry Cricket!)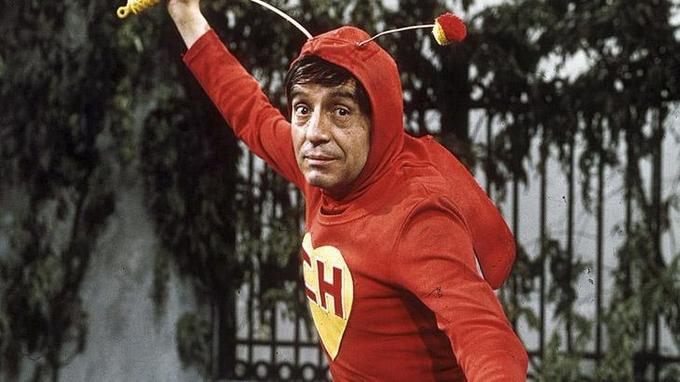 Reception
The show aired 250 episodes from 1973 until 1979 in Mexico, also being broadcasted across Latin America and Spain until 1981 alongside the show El Chavo del Ocho,[2] which shared the same cast of actors.
Online Presence
El Chapulín Colorado has sustained popularity all over Latin America decades after its last episode aired. On June 21st, 2005, one of the first online mentions of the show was posted by Deviant Art[3] user BezerroBizarro. He posted a fan artwork of the superhero, receiving 17,300 views and 122 favorites in 18 years (seen below).

Clips of the show also started to be uploaded on YouTube[4] around 2008. For example, on November 5th, 2008, a scene of the episode "Martians" was posted by Hecadan, showing the hero trying to investigate a possible alien invasion. The video (seen below, left) garnered 47,000 views and 114 likes in 14 years. A Brazilian Portuguese dubbed scene of El Chapulín Colorado was uploaded to YouTube[5] by HermanoZ on October 22nd, 2008, receiving 39,515 views and 295 likes in 14 years (seen below, right).
Fandom
The Mexican show has fans all over Latin America, the United States, Spain, Portugal and more. An Instagram[6] fan page dedicated to El Chapulín Colorado accumulated 9,100 followers as of April 2023. The cartoon version of the show, called El Chapulín Colorado Animado, has a Facebook[7] page with 34,000 followers on the platform.
Fan Art and Cosplay
Chapulín's costume is often cosplayed by fans, with cosplay images shared widely on the internet. For instance, YouTube[8] user Roupademusculos posted a bulky cosplay version of the Mexican superhero on February 15th, 2020, receiving 7,700 views and 256 likes in three years (seen below).
Twitter[9] user @GabrielMFerrar1 shared a fan art image of Chapulín on May 25th, 2021, garnering 1,576 likes and 222 retweets in two years (seen below).

Chapolin Sincero
On August 2014, a Brazilian parody Facebook page of the Mexican hero, called "Chapolin Sincero"[10] (Honest Chapulín), was created, eventually becoming a very widely-followed page in the country, garnering 3.5 million followers on Facebook and 1.5 million on Instagram. The page (now deleted) would post several image macros featuring Chapulín, accompanied by text in Portuguese. See some examples below:



Search Interest
External References
Recent Videos
There are no videos currently available.