PROTIP: Press 'i' to view the image gallery, 'v' to view the video gallery, or 'r' to view a random entry.
This submission is currently being researched & evaluated!
You can help confirm this entry by contributing facts, media, and other evidence of notability and mutation.
Battle for Dream Island (or as fans call it BFDI) is a YouTube series created by Micheal and Cary Huang (otherwise on YouTube, jacknjellify) on Jan. 1, 2010 and ended its 1st season on Jan. 1 2012 This show has a theme similar to the 2007 Cartoon Network series, Total Drama Island and reality show Survivor.
About
The show focuses around 20 (later 21) inanimate objects or plants who knew each other all their lives living in a fictional world named Goinky.
When a mysterious robotic speaker named Speaker Announcer falls from the sky, he tells everyone about a luxurious island named Dream Island. Fighting and competition brews, and Speaker Announcer settles this fighting into a competition named Battle for Dream Island. Characters have to compete in challenges each episode, which is monthly. Sometimes, characters die in the series and are brought back by devices by Recovery Centers.
Characters
Everyone, except for Speaker Announcer. Are characters on the show are contestants, and a recommended character was added onto the show. (A stick figure named David.)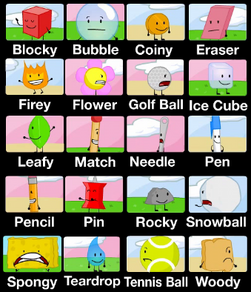 Season 2
Season 2 was announced on a YouTube video titled "BFDI Second Season Voting" on Cary Huang's YouTube channel carykh on February 10, 2012. In the comments of the video fans of the show could vote up to 20 times on what character they wanted to join Season 2, up until March 1, 2012.
Six days after the video was posted, there was a new video on jacknjellify's channel titled "Doing it Again!". In the video, Blocky, one of the characters in the show, told the fans they are doing a second voting on King of the Web for 12,500 votes. In return, Season 2 episodes would be weekly, at a lower quality, 3-4 minutes each, and would donate the prize money they got would be donated to Water.org so families in Africa would get free drinking water.
When the voting ended, fans of the series didn't vote for it that much because they didn't like BFDI to be monthly.
Also, according to a comment posted by Cary Huang on YouTuber AnimationEpic's channel, the second season might be called IDFB. However, it is currently unknown what IDFB will stand for, and it is still currently unconfirmed if this is what the Second Season will be called.
BFDI

Camps

Many fans of BFDI made "camps" where other fans could compete in challenges as BFDI characters on YouTube.
Facebook Comments