This submission is currently being researched & evaluated!
You can help confirm this entry by contributing facts, media, and other evidence of notability and mutation.
Editor note: Obviously major work in progress. PM for editorship or ask an entry mod.

About
Cartoon Network is an American cable/satellite television channel which began airing in October of 1992. It is a part of the Turner Broadcasting System[1]. Much of it's programming has become popular with it's viewers since it's inception. They are also known to have have occasional crossovers with their shows, and their website is a dedicated hub to online games.
Boomerang


Originally a programming block of Cartoon Network in 1992, Boomerang is a sister channel that houses reruns of shows defunct as well as shows currently airing on the main CN channel. Its range of shows is not only limited to that but also includes properties by MGM, Time Warner, Hanna-Barbera, Warner Brothers, and cartoon shorts dating as far back as the 1930s[2].It has curated a following, with a thread named "Boomerang International News" being created on August 9, 2009 on the website Toonzone. As of November 2014, the thread has 2,305 posts on 231 pages[3]. The channel also has a Fanpop page[4] and a community Facebook page. Created on June 3, 2009, it has gained 4,375 likes as of November 2014[5].
Related Cartoon Network Subcultures
Toonami

Toonami is a programming block that ran on Cartoon Network from 1997 to 2008, then again from 2012 to present. During both runs, it aired over 90 different shows, primarily consisting of English dubbed Anime. The selection was not only limited to anime but also included some western animation programming that was initially on the main Cartoon Network channel, with Sym-Bionic Titan being such an example. Various shows that aired on Toonami include Attack on Titan, Bleach, Cowboy Bebop, Dragonball, Fullmetal Alchemist, Gundam Wing, Gurren Lagann, He-Man, Naruto, One Piece, Sailor Moon, Soul Eater,
Space☆Dandy, and Sword Art Online.
Adult Swim

Adult Swim, though initially just a block on Cartoon Network when it began in 2001, became another cable/satellite television channel sharing the same channel space then. Its programming is known to be much more risqué than that of Cartoon Network, including shows such as Robot Chicken, Rick and Morty, The Boondocks, and Metalocalypse. They are also known to post many flash games available through their site, such as Robot Unicorn Attack.
Dexter's Laboratory

Dexter's Laboratory was among Cartoon Network's first cartoons, and the first to be marketed under the Cartoon Cartoons brand. Created by Genndy Tartakovsky (who would later create Samurai Jack), the show enjoyed a successful run thanks to its humor and sci-fi elements and continue to have a noticeable fanbase to this day.
The Powerpuff Girls

The Powerpuff Girls was one of Cartoon Network's most popular classic programs. It's distinct style and blend of action and comedy have made it a popular show to remember on the Internet. It would later inspire a reboot of the series, sharing the same name, which premiered in 2016 to mixed to negative reception.
Ed, Edd n Eddy

Ed, Edd n Eddy was a well-known program on Cartoon Network. It was the longest lasting in terms of years on the air. Its slapstick humor, bizarre quotes and it's small but memorable cast of characters have made it popular in the Internet.
Courage the Cowardly Dog

Courage the Cowardly Dog was a well known program about a dog named Courage who has to face his many fears to keep his caretakers alive in the middle of nowhere. Despite lasting only 3 years, it's still fondly remembered for combining comedic elements with elements of horror.
Samurai Jack

Samurai Jack is an animated epic created by Genndy Tartakovsky (who also created Dexter's Lab). The show's boasted an amazing over-lining plot and a talented cast and crew. The show originally never finished it's story when it ended in 2004, however a conclusion to the show is planned to air on Adult Swim sometime in 2016 (or 2017).
The Grim Adventures of Billy and Mandy

The Grim Adventures of Billy and Mandy was a popular program. It was the first cartoon that was chosen by viewers to become a cartoon. The show originally aired in 2001 as Grim and Evil, that contain both The Grim Adventures of Billy and Mandy and Evil Con Carne. The two shows would become separate in 2003. The show's range of humor, ranging from dark to absurdist, makes it still fondly remembered to this day.
Codename: Kids Next Door

Codename: Kids Next Door was a popular program that was about a organization of kids fighting the the evils of adult tyranny. It was also the second cartoon (the first being The Grim Adventures of Billy and Mandy) that was chosen by the viewers to be made into a cartoon. There are plans for a sequel series, but it has yet to be placed in production.
Megas XLR

Megas XLR was a short lived program about a giant robot that fought whatever crazy beings it came across. It was selected by viewers to become the next Cartoon Cartoon, though due to strange technicalities from it originally airing on Toonami, it's not an official Cartoon Cartoon. Nevertheless, despite it's short lived status, it has gain a cult following due to it's awesome nature. There are plans to revive the series, though nothing is official yet.
Johnny Test

Johnny Test is an infamous cartoon that aired on Cartoon Network. Originally began as a KidsWB cartoon, production for Johnny Test moved to Teletoons in Canada at the beginning of Season 2, Cartoon Network then became the American broadcasters for the show.
Ben 10

Ben 10 was a successful action cartoon that centered around a boy who found a device that allows him to transform into all types of different aliens. The show was so successful, three spinoff series were later created to follow up the original: Ben 10: Alien Force, Ben 10: Ultimate Alien, and Ben 10: Omniverse. The show will be rebooted in 2017 under the title of the original show.
Adventure Time

Adventure Time is currently Cartoon Network's most popular modern program. It's well known for its surreal humor, simple yet colorful art style, and overarching story. It has a strong Internet following in terms of communication between creators and fans, fan art, cosplays, crafts, music, and other generated content.
Regular Show

Regular Show is Cartoon Network's second most popular modern program. It also gained an Internet following thanks to its 80s pop culture references, crude humor, catchphrases, and weird premises with down-to-earth themes.
The Amazing World of Gumball

The Amazing World of Gumball is a popular modern program on Cartoon Network that is produced at Cartoon Network Europe. Its colorful visuals, vibrant facial expressions of characters and the juxtaposition of cartoon images on real-life backdrops have made it popular on the Internet.
Steven Universe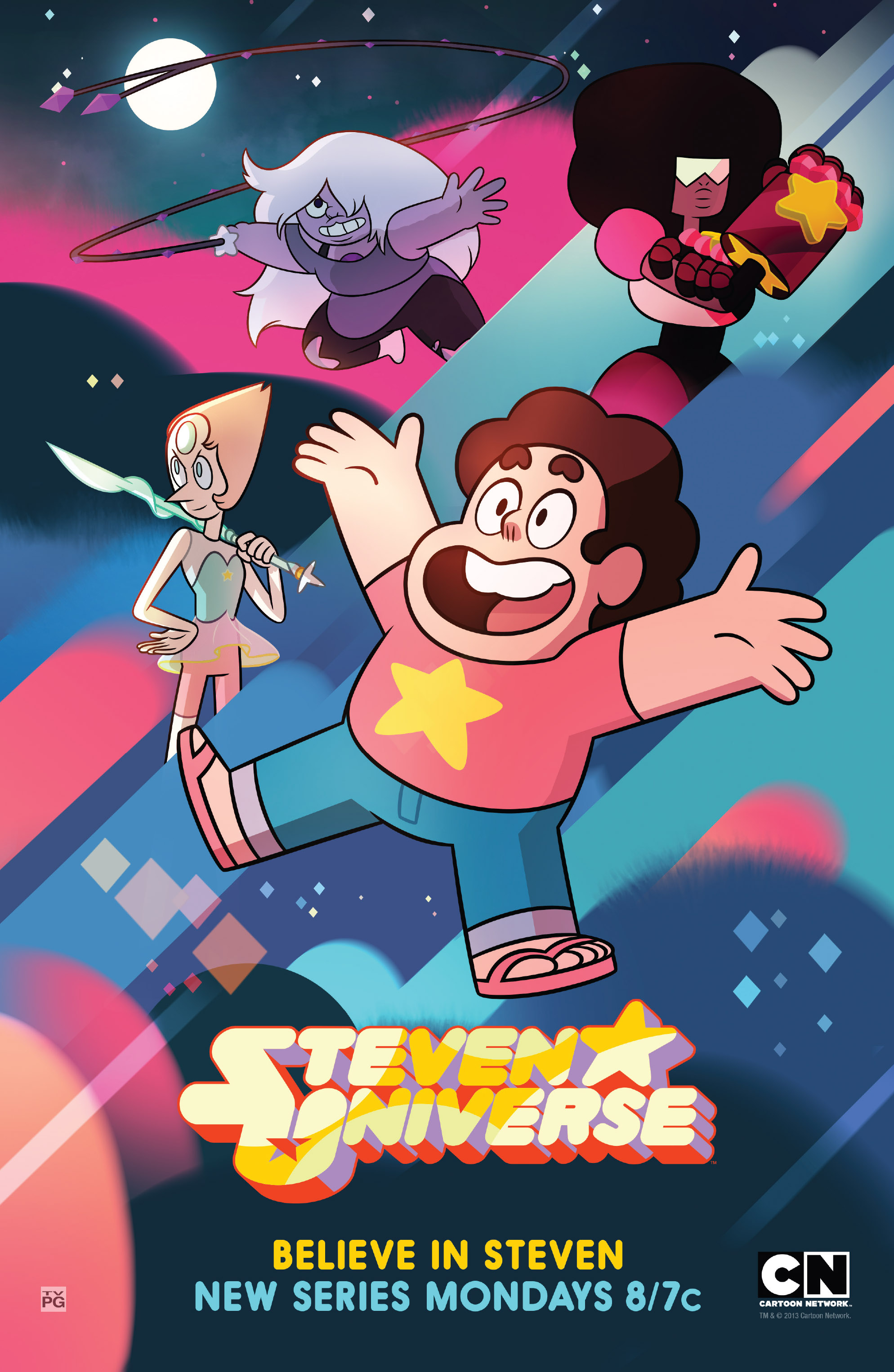 Steven Universe is another program that has gained an Internet following. This is largely due to its visuals, continuity, female lead characters and stories surrounding the show.
Over the Garden Wall

Over the Garden Wall was Cartoon Network's first mini-series. It consisted of 10 11-min episodes. They were aired 2 episodes a day during a 5 day span from Nov. 3-7, 2014.
CN Real

CN Real was a programming block by Cartoon Network debuted on June 17, 2009. It featured The Othersiders, Survive This, BrainRush, Destroy Build Destroy, Bobb'e Says, and Dude, What Would Happen? Most didn't survive for more than 3 episodes, and the only ones that did remain, Destroy Build Destroy and Dude, What Would Happen?, faded around 2011 with a brief resurgence in 2013. The shows were largely removed due to poor viewership, with months after their introduction having historically low viewing of the channel[7].
Stuart Snyder

In May of 2007, Tuner Broadcasting announced that Stuart Snyder would become president and COO of Turner's Animation[6], replacing Jim Samples who held the position from August 2001 to February 2007.[1] Under Snyder's direction, many controversial changes to the network were made. CN Real was created, making it no longer just a "cartoon" network, Toonami was cancelled, and several people who had been with Cartoon Network, such as Genndy Tartakovsky, Lauren Faust, and Crag McCracken leaving. Due to the large amount of unpopular changes to the channel, Synder is often seen as "a punching bag for older viewers of the network."[9] In March of 2014 it was announced that Snyder was stepping down form his position at Turner[8].
External References
Recent Images 1,385 total