PROTIP: Press 'i' to view the image gallery, 'v' to view the video gallery, or 'r' to view a random entry.
Warning: This page contains material that may be considered not safe for work.
This submission is currently being researched & evaluated!
You can help confirm this entry by contributing facts, media, and other evidence of notability and mutation.
About
Daggering is a Jamaican dance which incorporates simulated sex and wrestling moves. Many videos of daggering dance off competitions in dance halls have been uploaded to YouTube.
Origin
According to Wikipedia,[1] daggering-style dance existed in Jamaica for many years prior to the coining of the term. The earliest known reference to the dance online was submitted in a GIF titled "Daggering-wtf-dancing," submitted to the image hosting site ForGifs[2] on December 29th, 2007.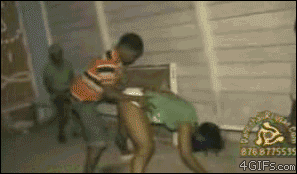 Spread
On July 14th, 2008, YouTuber Jay Will uploaded a music video for the reggae song "Daggering" by Mr. Vegas (shown below, left). On November 20th, YouTuber Fame Ous uploaded a video featuring Skerrit Bwoy, a former hype man for the reggae group Major Lazer, daggering off a ladder in a dance hall (shown below, right). In six years, the videos gathered upwards of 2.3 million and 890,000 views respectively.
On May 14th, 2010, the MajorLazerVEVO YouTube channel uploaded a daggering instructional video (shown below, left). On July 22nd, YouTuber HotReggaeDances uploaded a video featuring daggering dances at a Jamaican dancehall (shown below, right). In four years, the video gained over 1.5 million views and 360 comments.
On February 28th, 2014, YouTuber Jammin oneluv uploaded a video of Olympic sprinter Usain Bolt daggering with a woman in Trinidad (shown below, left). On March 11th, 2014, the Grenas Inc Entertainment YouTube channel uploaded a daggering montage video with dubbed commentary from the professional wrestling organization WWE (shown below, right).
Search Interest
External References
Facebook Comments