PROTIP: Press 'i' to view the image gallery, 'v' to view the video gallery, or 'r' to view a random entry.
This submission is currently being researched & evaluated!
You can help confirm this entry by contributing facts, media, and other evidence of notability and mutation.
About
Daquan is a fictional character featured in jokes circulated primarily by the Black Twitter community, which are paired with stock photographs of young white children being scolded by an adult. The character is typically portrayed as an African American inner city youth who serves as a bad influence to impressionable young white women.
Origin
On July 2nd, 2014, Twitter user @RealRaymondJ[7] posted a tweet featuring a stock photograph of a young girl making a dismissive hand gesture to her mother with the caption "Mom I don't want a David, I want a Daquan" (shown below). In the first week, the tweet gained over 14,500 retweets and 11,000 favorites.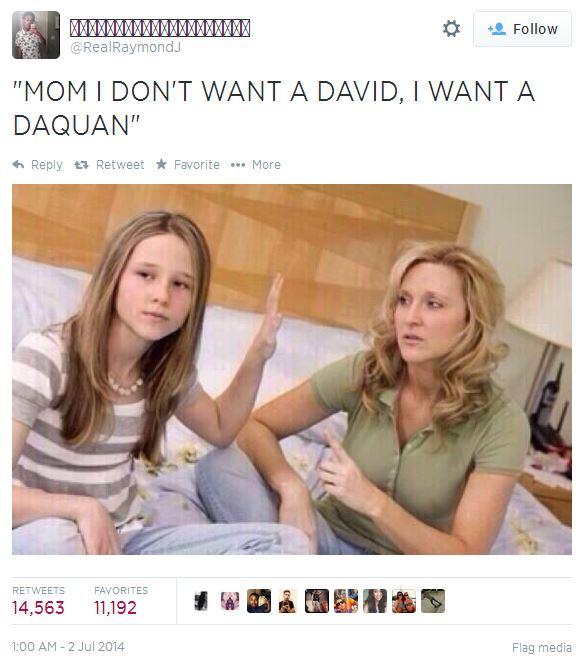 Spread
On July 7th, 2014, the @YahBoyDaquan[2] Twitter feed was launched, gathering more than 45,000 followers in the next 24 hours.
The same day, Redditor Loelin submitted a post to the /r/OutOfTheLoop[1] subreddit asking for an explanation of the Daquan jokes. Also on July 7th, notable examples from the series were highlighted on the hip hop news site Hip Hop Wired[5] and the Internet news blog UpRoxx.[3] Meanwhile, a Daquan post was submitted to the Twitter trends site What the Trend.[4] On July 8th, the International Business Times[6] reported that the keyword "Daquan" had been tweeted over 100,000 times in 24 hours.
Notable Examples
The Danquan Saga
On September 17th, 2014, Imgur[8] user AnthonyCapo submitted a post claiming that his 16-year-old sister announced she was moving out of her parents' home with her boyfriend Dan, whom he nicknamed "Daquan" (shown below).
In the comments section of the post, AnthonyCapo followed up with a series of updates as the drama continued to unfold, which further revealed that his sister was pregnant and the teen couple's parents had to convene for a late night meeting to discuss the future course of actions in the light of the pregnancy news. In the first 48 hours, the post gained over 24,400 points and 2,600 comments.
On the following day, AnthonyCapo posted a new gallery[9] on Imgur with more details surrounding the story, which culminated in his sister agreeing to take the pregnancy to term and give the child up for adoption. In the following 24 hours, the gallery received more than 19,800 points and 4,300 comments.
Meanwhile, many Imgur users following the story began uploading reaction images as commentaries, many of which were subsequently chronicled in a gallery titled "The Danquan Saga" (shown below).[10] On September 19th, the gallery was submitted to the /r/funny[11] subreddit. In the coming days, the story was reposted on the IGN Forums,[12]FunnyJunk[13] and the Internet humor site Brobible.[14]
Search Interest
External References
Recent Videos
There are no videos currently available.
Facebook Comments