Nutted But She Still Sucking
About
Nutted But She Still Sucking is a reaction image series featuring pictures and animated GIFs of people appearing surprised or uncomfortable. The caption "nutted but she still sucking" indicates that the image is meant to represent someone who is receiving fellatio after they have already ejaculated.
Origin
The earliest known reaction image featuring the "nutted but she still suckin" caption was posted on the Body Building Forums[1] on December 8th, 2013, featuring a clip of the fictional cyborg character RoboCop (shown below)

Spread
On February 1st, 2014, YouTuber Traviz Mercer uploaded a video titled "That feeling you get when you cum and she's still sucking," featuring a clip from the 1990 children's comedy film Home Alone (shown below).
On March 2nd, Redditor davematts reposted the RoboCop GIF to the /r/whitepeoplegifs subreddit. Prior to being archived, the post gathered upwards of 1,400 votes (90% upvoted). On April 21st, the /r/shestillsucking[2] subreddit was launched for the reaction image series. On December 17th, Body Building Forums[4] member OGodPlsNo submitted a thread about the meme. On December 5th, 2015, Redditor Nicky_and_Skittles uploaded a gameplay clip from the game Just Cause 3, in which the player connects a grappling hook between a woman's face and a man's crotch to /r/gaming[3] (shown below). In the comments section, the top voted reply captioned the GIF with "nutted but she still sucking."
Various Examples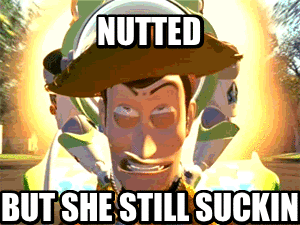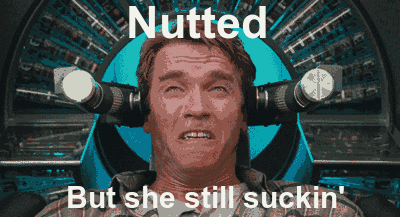 Search Interest
External References