About
The Barber, also known as Just Fuck Me Up or JUST, is a series of captioned images featuring photographs of people with botched haircuts or bold hairstyles and transcripts of mock conversations between the subject and their barber.
Origin
The earliest known iteration of the joke was done by Zach Galifianakis in his 2006 comedy special Zach Galifianakis Live at the Purple Onion, released on DVD in March 2007.
When you look like I do, it's hard to get a table for one at Chuck E Cheese. I went to my stylist today and she said, "what are you looking for?" and I told her, "Just give me the Amber Alert."
On August 13th, 2012, rapper Tyler, The Creator posted a tweet mocking Miley Cyrus' new short haircut, joking that the pop star requested her stylist to "fuck me up real quick" (shown below). The following day, Cyrus responded to the tweet by insulting the rapper's face but complimenting his music (shown below).[9] The tweets were subsequently deleted.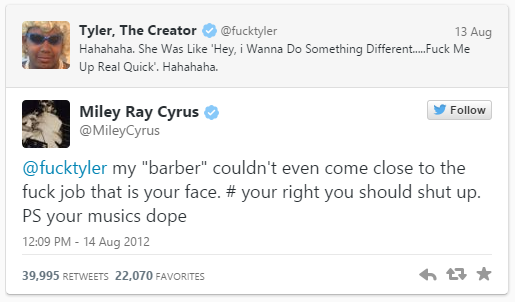 Spread
On June 7th, 2014, Twitter user @TheHuzlers[4] posted a photograph of the back of a man's freshly-shaved head with the message "Nigga sat at the barber chair and said 'Just fuck me up bruh'" (shown below). On June 20th, 2014, Twitter user tf_i_looklike[5] reposted the same photograph, which accumulated more than 10,700 retweets and 5,600 favorites over eight months.

On December 11th, Twitter user @RiqqiXNX[1] tweeted a photograph of an advertisement for Cleveland-based dentist Gino DiGiannantonio,[8] along with a mock conversation between DiGiannantonio and his barber (shown below, left). In three months, the tweet gathered over 5,400 favorites and 4,600 retweets. On the same day, the @WorldStarFunny[10] Twitter feed posted a photograph of a man with a circular haircut blended into his facial hair with the caption "he sat in the barber's chair and just said 'fuck my whole life up fam'" (shown below, right). In three months, the tweets gathered over 4,600 and 7,100 retweets respectively.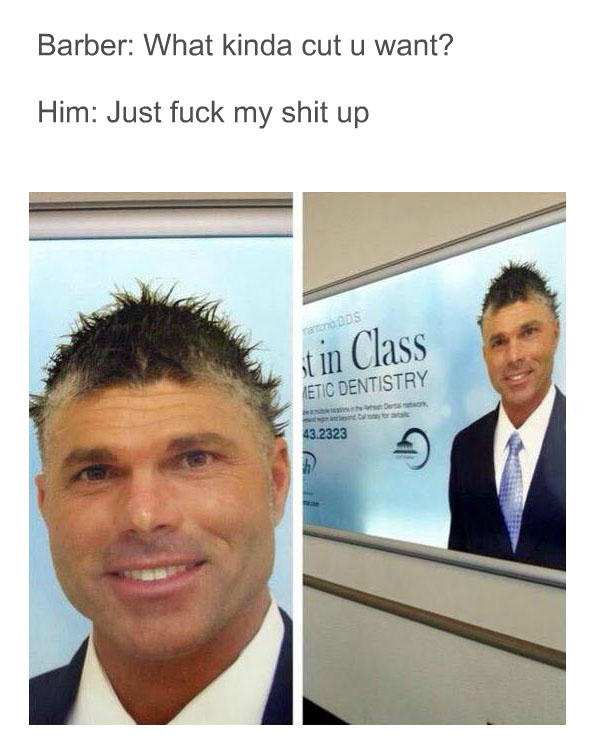 On December 15th, Redditor DickHardwoodJohnson submitted a screenshot of the DiGiannantonio tweet to the /r/funny[7] subreddit, where it received upwards of 4,900 votes (96% upvoted) and 1,900 comments in two months. On December 17th, the /r/justfuckmyshitup[6] subreddit was launched for notable examples of the captioned image meme. On February 12th, 2015, the @BarberPosts[2] Twitter feed was launched, which highlights notable photographs of botched haircuts accompanied by mock barber conversations. On February 19th, Urban Dictionary[3] user holiday1432 submitted an entry for "Just fuck me up," defining it as "putting the fate of your hair into someone else's hands." On February 25th, the men's interest blog Brobible[11] published a compilation of notable examples of the meme.
Various Examples






Search Interest
External References