PROTIP: Press 'i' to view the image gallery, 'v' to view the video gallery, or 'r' to view a random entry.
This submission is currently being researched & evaluated!
You can help confirm this entry by contributing facts, media, and other evidence of notability and mutation.
Background
At midnight on January 18th, 2012, the English version of Wikipedia went on a 24-hour blackout in protesting the legislation of two controversial bills known as Protect IP Act (PIPA) and Stop Online Piracy Act. The decision to go offline was collectively made by over 1,800 Wikipedia editors who participated in the community poll. Due to Wikipedia's established stature as the go-to reference site for all encyclopedic information, many took their grievances about the blackout event to social networking sites and other outlets.
Developments
Media Coverage
The day-long event was extensively covered by major news publications, including The New York Times and The Los Angeles Times, which have publicly come out against the bills, as well as CNN, Fox News and The Wall Street Journal that are run by pro-SOPA parent companies like Time Warners and Newscorp.
Meanwhile, members of the Motion Picture Association of America responded to Wikipedia and Google's protests by attacking the shutdown as a misleading gimmick to distract people away from the issue of online piracy and an abuse of power. The main sponsor of the bill U.S representative Lamar Smith® called the blackout a "publicity stunt."
Online Reaction
Many Wikipedia visitors who discovered that the site was offline complained on Twitter and Facebook with hashtags #WorldWithoutWikipedia and #DayWithoutWikipedia, while some began posting different ways to bypass the default pop-up message by either using the mobile versions of URL address or disabling the script entirely. Some took the opportunity to advertise other sources of information, such as local libraries.
Notable Examples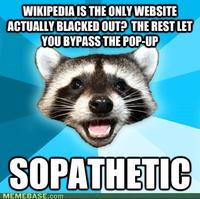 Microsoft Encarta95
Users on Reddit and 4chan took the Wikipedia blackout as an opportunity to spread jokes about Encarta 95, a digital multimedia encyclopedia published by Microsoft from 1993 to 2009.
Twitter Hashtags
The Washington Post, The Guardian and NPR collaborated on a crowd-sourced "band-aid" solution for Wikipedia blackout by encouraging people to ask their daily questions on Twitter with the hashtag #altwiki.
Programmer and twitter user Nick Quaranto[1] (Twitter handle: @qrush) launched a fake Twitter account called @herpderpedia[2] which curates rant tweets posted by various users in reaction to Wikipedia blackout. Meanwhile, Twitter hashtag #FactWithoutWikipedia became trending topics for tweets that deal with facts that are intentionally and terribly inaccurate.
Turnout
On the following day, Wikimedia Foundation reported that over 162 million people had visited the site during the blackout, at least 4 million of whom responded to the call for action and looked up contact information for their U.S. congressional representatives. The daily traffic to Wikipedia's front page during the 24 hour period of blackout compared with 4,873,388 on the previous day.The usage of Wikipedia's front page nearly quadrupled during the blackout with 17.5 million page views recorded in comparison to 4.8 million page views on the previous day.
External References
Recent Videos
There are no videos currently available.
Facebook Comments