PROTIP: Press 'i' to view the image gallery, 'v' to view the video gallery, or 'r' to view a random entry.
This submission is currently being researched & evaluated!
You can help confirm this entry by contributing facts, media, and other evidence of notability and mutation.
Overview
Liberator is the name of the 3D printed gun designed by Defense Distributed's open source printing project DEFCAD. After the blueprints were made available online on May 5th, 2013, they were downloaded more than 100,000 times within four days. On May 9th, 2013, the US Department of Defense Trade Controls requested the files be removed from the site.
Background
On June 4th, 2012, 24-year-old University of Texas law student Cody Wilson founded the organization Defense Distributed[1] with the intent to create a completely 3D-printed, open source gun, which was inspired by gunsmith Michael Guslick's partially printed rifle.[6] The staff launched the official website that July and released a video (shown below) detailing their ideas to create a "wiki weapon" that would be accessible to anyone.
Notable Developments
Indiegogo Campaign
In August, Defense Distributed launched an Indiegogo crowdfunding campaign in order to raise $20,000 for equipments and supplies, including a Stratasys 3D printer and enough plastic filament to built and test several iterations of the firearm. The campaign lasted for 22 days and raised nearly $2,000 dollars before Indiegogo took the page down down, claiming a violation of their terms of service which state that campaigns cannot be used for activities relating to the sales of firearms or certain firearm parts and accessories.[2] After their fundraiser was shuttered on August 27th, they switched to accepting donations via PayPal and Bitcoin through their homepage[3], raising more than $20,000 by September 20th, 2012.[4]
Printer Seized
That September, Wilson leased a 3D printer from Stratasys to begin testing their prototypes. Less than a week after receiving the $15,900 uPrintSE, Wilson received an email from Stratasys' lawyers stating that they wanted the printer returned. Despite the plea that it would not break federal arms-manufacturing laws, the lease was cancelled and contractors came to Wilson's home to seize the printer (shown below).[7] Following this, Wilson consulted with a field office of the Bureau of Alcohol, Tobacco, Firearms and Explosives who noted that he needed to get a license to manufacture a weapon. By late October 2012, two unnamed companies in Texas offered Defense Distributed safe spaces to work on their designs in secret.[8]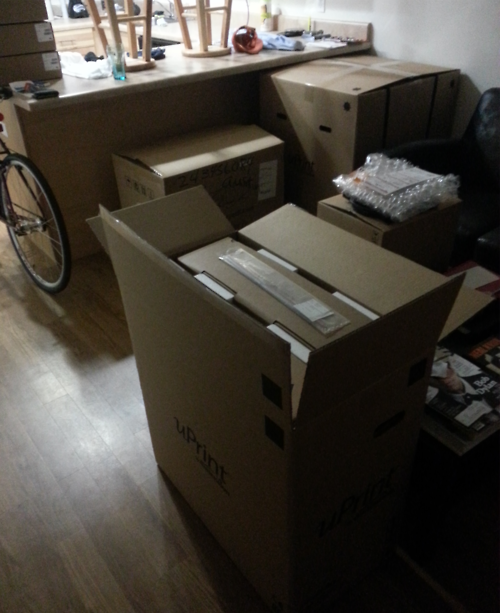 Launch of
DEFCAD
In early December 2012, members of Defense Distributed uploaded a video (shown below) demonstrating a partially 3D printed AR-15 rifle[5] based on Guslick's previous design that broke apart after six shots. On December 19th, 2012, Makerbot Industries decided to pull Guslick's design from their blueprint repository Thingiverse in the wake of the Sandy Hook Elementary School Schooling. Additionally, Makerbot altered Thingiverse's Trrms of Service to disallow the sharing of objects that "contribute to the creation of weapons."[9]
In response to this, Defense Distributed launched DEFCAD.org[10], a repository dedicated to hosting any file that Thingiverse would censor. Prior to a takedown in May 2013, DEFCAD hosted blueprints for dozens of
weapon related objects including grenades, rifle pieces, silencers, pistol pieces and ammunition cartridges.
Blueprints Released
On May 3rd, 2013, Defense Distributed shared photos[11] of his first prototype printed gun, known as the Liberator, possibly inspired by a World War II-era pistol[12] of the same name. The weapon was made nearly entirely from 3D printed parts, with the exception of a nail used as a firing pin and a six ounce piece of steel to make it perceivable by metal detectors.
Two days later, Defense Distributed uploaded a video (shown below) of its test firing. Within 48 hours, the blueprints were downloaded more than 100,000 times.[13] The files were also reshared on The Pirate Bay, where it immediately was one of the most popular 3D printing files.
Department of State Takedown
On May 9th, 2013, less than a week after the Liberator went online, Cody Wilson received a request from the United States Department of State (shown below), asking him to remove the Liberator blueprints from DEFCAD so they could be reviewed by the department.[14]Though Wilson complied and took the files down, there were at least three separate torrents for the Liberator available on The Pirate Bay[15] as of 8:45 p.m. (ET) that evening. Meanwhile, DEFCAD put up a red banner announcing that their files had been removed from public viewing after the US government claimed control of the information.
Search Interest
External References
Facebook Comments