PROTIP: Press 'i' to view the image gallery, 'v' to view the video gallery, or 'r' to view a random entry.
This submission is currently being researched & evaluated!
You can help confirm this entry by contributing facts, media, and other evidence of notability and mutation.
About
"Flowchart Ken" is a minor meme that is well known on fighting game forums such as Gamefaq's Street Fighter 4 boards and Shoryuken.com, a fansite for Capcom fighting games.
"Flowchart" is a term used for characters that tend to always play a certain way by players of low skill (slang term is n00b or scrub). The term is both a joke about how simple a character is to play and a complaint of how annoying fighting against them can be. This term is also not exclusive to fighting game characters.
Playing this way is known to be rage inducing. It can be the cause of ragequits. Flowchart Kens in particular are notorious for causing ragequits or ragequitting themselves.
Origin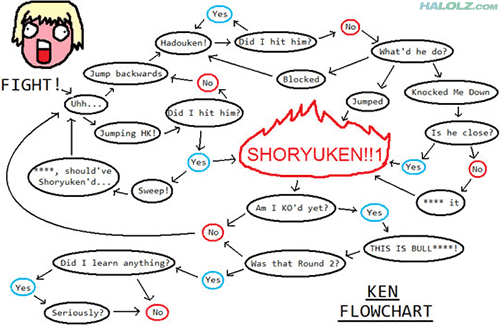 Original Flowchart Ken image that was reposted on Halolz.com
Street Fighter 4 is the fourth main edition to Capcom's Street Fighter franchise. It was released on February 17, 2009 in North America, almost ten years after the release of Street Fighter III: Third Strike. The Street Fighter series in general is considered a staple of fighting games and Street Fighter 4 is no exception.
When the game came out, there was an abnormally large amount of low skilled players who picked the character Ken Masters. It got to the point where a thread was posted on Shoryuken.com called "Ken Fighter IV".[1] For a long time during the duration of Street Fighter 4, this joke was commonly used. It was even alluded to in IGN's Grudge Match: Blazblue vs. Street Fighter IV.
The oldest mention of Flowchart Ken is from the Youtube video Fun with Street Fighter IV Random Online Matches PS3 which was posted on February 20, 2009 by JimmyLy. The image became more popular when it was reposted on both Gamefaqs.com and Shoryuken.com a few days later.
Notability
2009 is universally viewed as the year where the fighting game genre was revived. The main reason was the release of the game Street Fighter 4, but there were also several other popular games released such as Blazblue: Calamity Trigger, and King of Fighters XII.
Though previously the fighting game genre had seen a long drought and was believed to be dying out, 2009 marked a decisive turning point. While fighting games are not as popular as other game genres (like First Person Shooter games), it has gained a lot more attention since then.
Flowchart Ken and its parodies are notable because it is one of the things that marks the expansion of the fighting game community. Flowchart Ken was republished on several sites, including ones that do not traditionally cover fighting games.[2]
It also spawned derivatives in other games such as Ice Car.
It was also given a nod to by the creators when Ken got a new win quote in Super Street Fighter 4.[5]
Derivatives
"Flowchart Ken" parodies have been created for several other characters both from Street Fighter and not from Street Fighter. Mash Ultra also sells Flowchart Ken T-shirts.[4]

Flowcharts Ken parodies featuring Guile, Jin Kisaragi from Blazblue, Yun, and Phoenix from MvC3
Search Inquiry
External References
[1]Shoryuken.com – Ken Fighter IV
[2]HaloLZ – KEN FLOWCHART
[3]Urban Dictionary – Flowchart Ken
[4]Mash Ultra – Flowchart Ken Shirt
[5]Eventhubs – Flowchart Ken win quote in SSF4
Facebook Comments