PROTIP: Press 'i' to view the image gallery, 'v' to view the video gallery, or 'r' to view a random entry.
About
Hover Hand is an awkward photo pose in which the subject wraps an arm around a companion with their hand hovering away from the companion's body. Often spotted in casual group photographs, hover hands usually signify that the person feels uncomfortable or lacks the confidence required to make physical contact.
Origin
On October 21st, 2010, a post titled "And now, awkward moments with Summer Glau" was submitted to the Internet humor site Fark[1] with several pictures of the American actress posing with fans of the sci-fi television series Firefly. Fark user rcf1105 commented to the post saying, "Hover hand: sad no matter what the context. Please, let's stop hover hand. Together."
Spread
The same day the photos with Glau were submitted to Fark, Reddit user Youranmoron submitted another image (shown left) from the same compilation in a post titled "Notice the hover hand. Forever Alone ;_;"[2] A month later, an edited version of the image was submitted in a post titled "Hoverhands – the forever alone hug"[14] by Redditor yarissey with the caption "Hover hand / so close, yet, so far" (shown right).
On November and December of 2010, the image was posted on sites like Buzzfeed[3], FunnyJunk[4], Cheezburger[5]and the "Fuck Yeah, Hover Hands" Tumblr.[13] On December 5th, one of the earliest discussion threads dedicated to the topic surfaced on the Bodybuilding[7] forums, which led to over 26 pages of hover hand example images.
On December 6th and 7th, TheHoverHand.com[8] and HoverHands.net[9] and HoverHands.org[18] hover hand photo single topics blogs were launched. On December 10th, a compilation of hover hand images was published on the humor blog Now That's Nifty.[11]
On September 27th, 2011, the Internet humor site College Humor[15] published a satirical video (shown above) about a Photoshop hover hand removal tool. On December 21st, 2011, a post titled "Hover hand level 50 reached" hit the front page of the /r/pics subreddit with a photo of a man hover handing with 3 women.
As of April 17th, 2012, a Facebook page for "Hover Hand" has received 1,630 likes.
Notable Examples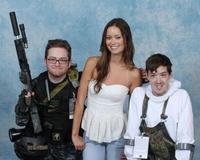 Search Interest
External References
Facebook Comments