PROTIP: Press 'i' to view the image gallery, 'v' to view the video gallery, or 'r' to view a random entry.
This submission is currently being researched & evaluated!
You can help confirm this entry by contributing facts, media, and other evidence of notability and mutation.
(MAJOR WIP. HALP NEEDED.)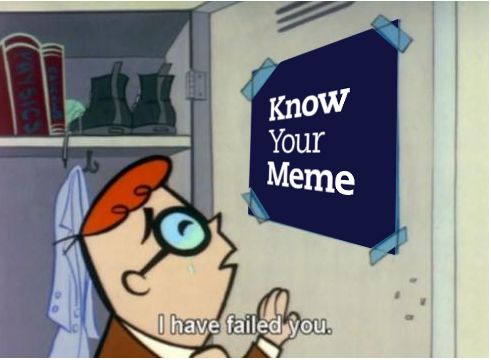 About
I Have Failed You is an exploitable meme that depicts a scene from the Cartoon Network animated TV series Dexter's Laboratory [1] in which the eponymous character looks up to a poster of Albert Einstein in his locker and says "I have failed you". Using image editing software, the picture is usually changed to show a character or person who is held in high regard by some groups.
Origin
In Season 1, Episode 3 titled "Dexter's Rival," originally aired on May 12th, 1996, a new student named Mandark Astronomonov arrives at Dexter's school and reveals himself to be both academically superior and evil, eventually forcing Dexter to shut down his lab. Shocked, Dexter looks up at a drawing of Albert Einstein taped on his locker's door and says "I have failed you".
Spread
As of May 2014, several varieties of the original stillshot have been produced and posted on sites such as DeviantArt and FunnyJunk..
Notable Examples
Search Interest
External References
Recent Videos
There are no videos currently available.
Facebook Comments