About
Duolingo is a language-learning educational application for web and mobile devices. The platform assesses users through a variety of tests, using writing, reading comprehension, and speech, which become increase in difficulty depending on the user's proficiency.
History
Work on Duolingo began at the end of 2009.[1] Carnegie Mellon University computer science professor Luis von Ahn, the inventor of CAPTCHA, and Severin Hacker, a graduate student, wanted to create an app that would teach people a new language but also translate simple phrases around the internet.[2] Ahn also wanted to create a free way for people around the world to learn new languages, something that was very expensive in his home country of Guatemala.[3] In exchange for the user's translations, Duolingo has remained free for users.
Funded by a MacArthur fellowship[4] and a grant from the National Science Foundation,[5] Duolingo launched a public beta on November 30th, 2011 with a waiting list of more than 300,000, before releasing to the general public on June 19th, 2012. The app hit the iOS App Store on November 13th and the Google Play Store on May 29th, 2013.
Features
Duolingo offers courses in more than 20 languages. The app assesses student proficiency through more than 68 courses, which ask the user to read, listen, and speak different languages.
To keep students engaged, the developers gamified Duolingo, encouraging users through a streak count, which motivates users by tallying how many days in a row they have taken classes, experience points, and hearts -- if all hearts are depleted in a session, the user must retake the lesson.
In Duolingo, users gain "lingot, "a portmanteau of lingo and ingot," (now called Gems) for good performance. Lingot allows users to purchase different items in the game.
As of May 2017, Duolingo offers 23 course for users who know English. They include:
Latin American Spanish
French
German
Italian
Brazilian
Portuguese
Russian
Dutch
Swedish
Irish
Turkish
Danish
Norwegian
Bokmål
Polish
Hebrew
Esperanto
Vietnamese
Ukrainian
Welsh
Greek
Hungarian
Swahili
Romanian
Japanese
Highlights
In December 2013, Duolingo became the first education app to be awarded Apple's iPhone App of the Year award.[6]
Duolingo Poem
On June 7th, 2017, Twitter user @missellabell[8] posted a poem entitled "My Sister Goes To The Institute" comprised of the best sentences from Duolingo's Beginner's Spanish Course. The posts (shown below) received more than 4,000 retweets and 8,900 likes.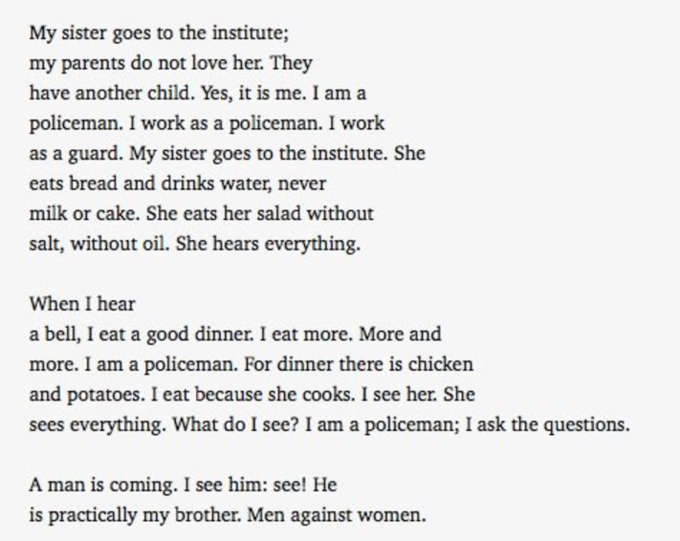 Among the many other people retweets and reacting to the poem, Duolingo's official Twitter account[9] replied to @missellabell, saying, "You write beautiful poetry @missellabell and we are honored to be your muse." Their reply (shown below) received more than 120 retweets and 900 likes in 24 hours.
Twitter published a Moments[10] page on the poem, documenting the piece and the reaction.

Related Memes
Evil Duolingo Own
Evil Duolingo Owl is a series of parodies of the mascot for the language learning application Duolingo. In these memes, Duo, the Duolingo owl, is a dangerous teacher, who threatens users when they do not use the application.



Strange Duolingo Sentences
Strange Duolingo Sentences is a gimmick Twitter account which collects Duolingo translation prompts that appear menacing, unsettling, sociopathic or in another way weird. The launch of the account in January was preceded by many social media posts sharing such sentences going viral in previous years.


Traffic
As of May 2017, Duolingo had more than 170 million users worldwide.[7]
Search Interest
External References