PROTIP: Press 'i' to view the image gallery, 'v' to view the video gallery, or 'r' to view a random entry.
Warning: This page contains material that may be considered not safe for work.
This submission is currently being researched & evaluated!
You can help confirm this entry by contributing facts, media, and other evidence of notability and mutation.
PLOT
About
"I Watch It For The Plot" is an ironic statement used to falsely indicate an appreciation for a television series due to its engaging storyline and character development, rather than enjoying its sexually attractive characters, nude scenes and other gratifying elements that are collectively known as fan service. As a result, the word "plot" has become associated with the objectification of female characters.
Origin
"Fan service"[7] is a term originating from anime and manga fandom used to describe material that involves racy, sexual or erotic content added solely to please the audience. Various anime series have gained a reputation for focusing on fan service and placing less emphasis on the story. In this context, "watching it for the plot" is used as a tongue-in-cheek excuse for those who watch a show for fan service but the exact origin of the phrase is unknown.
Precursor: I Read It For The Articles
"I Read It For The Articles"[8] is an expression that originated in the 1960s and 1970s as a common justification for reading Playboy magazine, a men's interest magazine known for containing nude photographs of pin-up models. The magazine published articles and editorials alongside the pictorial spreads, giving justification for purchasing the magazine for reasons other than wanting to look at nude photos. The phrase subsequently became a widely used trope in television and film.
Spread
In the animated series My Little Pony: Friendship is Magic, the word "plot" became synonymous with a pony's posterior due to a viral image (shown below) initially posted to the Smack Jeeves[1] Forums on January 20th, 2011 by user tezzle.
On August 25th, Urban Dictionary[4] user imtrollingumad submitted an entry for the word "plot," which referred to its association with the rear end of My Little Pony characters. On September 5th, YouTuber ObnoxiousDoucheAlt uploaded a video titled "We're Watching This For the Plot," featuring an edited clip of characters from the children's animated television show Ed, Edd n Eddy watching the adult anime Sekirei (shown below). Within two years, the video gained over 60,000 views and 330 comments.
On December 31st, 2012, 9gag[2] user imsomeoneelse posted a screen capture featuring several female characters from the Nickelodeon sitcom Victorious performing a dance in Santa costumes with the caption "I watch it for the plot" (shown below). In the following six months, the post garnered more than 24,000 up votes and 9,600 Facebook shares.
On the same day, the /r/watchitfortheplot[5] subreddit was launched to showcase animated GIFs, clips and images of female characters from various television shows. On March 9th, 2013, a Facebook[3] page titled "I Watch it for the Plot" was launched, which accumulated upwards of 1,800 likes in the first three months.
Notable Examples
Additional examples are often posted on the microblogging site Tumblr[6] under the tag "i watch it for the plot" and through the image sharing website FunnyJunk[9] by searching for "i watch it for the plot".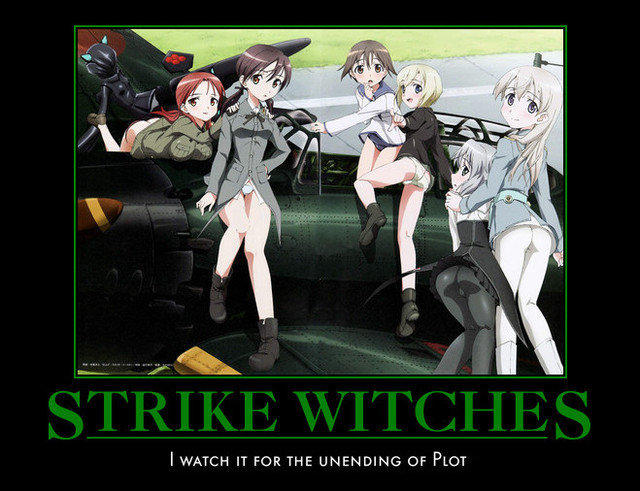 Search Interest
External References
Facebook Comments