PROTIP: Press 'i' to view the image gallery, 'v' to view the video gallery, or 'r' to view a random entry.
About
LOL ASCII is a sub-genre of ASCII art that involves combining a popular acronym (ex: ROFL) with a seemingly arbitrary object (ex: Helicopter) to create a portmanteau (ex: ROFLcopter), which is then illustrated in the form of ASCII art.
LOL ASCII is typically used to emphasize the meaning of each acronym, for example, using "Roflcopter" as an intensified version of "Rofl."
Origin
Using text to create images has been around since the invention of the commercial typewriter in 1867. It even was an aspect of the plot of the 1954 short film Stamp Day For Superman. Below is a German video showing typewriter art created in the 1950s.

ASCII Art on computers has been around since the 1960s. It was very popular in the late 1970s and early 1980s, where people used ASCII art on bulletin board systems because there was no way to embed images. It also appeared in underground art groups and webcomics over the years. One webcomic, ASCII Art Farts, began in 1999 and ran daily until 2003.
In the 1990s, graphical browsing became possible, causing people to use ASCII art less throughout the web. However, it stayed popular in places where the font had to maintain a fixed width. Email, message boards, IRC, and online text-based RPGs (MUDs) were hubs for ASCII art activity.
In the early 2000s, people began combining internet acronyms such as LOL, ROFL, and LMAO with words as a way to intensify responses. UrbanDictionary definitions for lollercoaster and lollerskates were added in 2003 and a definition for roflcopter was added in 2004.
Examples
Two galleries of LOL ASCII images are located at Space G and Stop Drop and Rofl.
Some of the more common images are
- Lollercoaster


- Lolcano


- Lmaonade


- Even OMGWTFBBQ


Submemes: Lollerskates and Roflcopter
Lollerskates and Roflcopter both caught on very quickly and spawned into memes of their own.

While it's difficult to find out where and who invented the slang. One of the earliest mentions of Lollerskates can be found in a January 2003 question from an alt.fan.dragonball Usenet talk.
You can find more information in the Lollerskates entry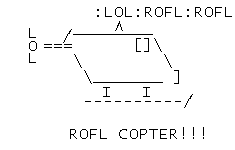 Roflcopter is depicted as a helicopter with Rofl rotors. According to Urban Dictionary, it originated in the Warcraft III forums at some point between 2003 and 2004.
You can find a more complete explanation of its spread in the Roflcopter entry
Derivatives –
YTMND

and YouTube

Animations of the LOL ASCII art have been floating around the internet since 2003 as well. The earliest YTMNDs appeared in May 2004. These were created for lollercoaster, LMAOnade, and steamloller.

They have also appeared in YouTube videos. Often, the videos feature Microsoft Sam's robotic voice introducing the video with the "My x goes…" line.

Roflcopter, February 2006 (with Microsoft Sam)


LOLcity, April 2007


Roflbrothel, February 2008 (somewhat NSFW)


Rofltank, July 2008


Microsoft Sam's LOL vehicles (and the sounds they make), October 2008


LOL ASCII Compilation, October 2008


Roflcoaster, January 2009


Lolcano, February 2009


6 minutes of the Steamloller, May 2009

Recent Videos
There are no videos currently available.
Facebook Comments