PROTIP: Press 'i' to view the image gallery, 'v' to view the video gallery, or 'r' to view a random entry.
This submission is currently being researched & evaluated!
You can help confirm this entry by contributing facts, media, and other evidence of notability and mutation.

About
Mad Men Opening Credits Parodies are a series of spoof videos based on the animated opening title sequence for the television drama series Mad Men. The parodies typically feature silhouettes of fictional characters falling past glass facade reflections of memorable scenes from their respective TV shows, films and video games.
Origin
Mad Men is an American period drama television series about a 1960s advertising agency in New York City. The show premiered on July 19th, 2007 and featured an animated opening credit sequence in which the silhouette of a man is shown falling down from a large building accompanied by the instrumental track "A Beautiful Mile" by RJD2 (shown below, left). The title sequence was created by the production house Imaginary Forces, who were inspired by the opening for the 1959 thriller film North by Northwest directed by Alfred Hitchcock. The earliest known parody was created for a Halloween episode of the animated television series The Simpsons (shown below, right), which was leaked on to YouTube on October 28th, 2008.
Spread
On October 24th, 2009, YouTuber dazedjaded uploaded an Alice in Wonderland spoof of the Mad Men opening title (shown below, left), receiving over 13,000 views and 25 comments over the next four years. On November 9th, 2010, YouTuber Slazzyslaz uploaded a parody for the late-night talk show Conan (shown below, right), which accumulated more than 33,000 views and 35 comments within three years.
On April 24th, 2011, YouTuber Mat Recardo uploaded a parody video titled "Man Made," featuring the Portal 2 cooperative campaign characters Atlas and P-Body (shown below, left). The same day, Redditor shniken submitted the video to the /r/madmen[10] subreddit, where it received 70 up votes prior to being archived. In the following two years, the parody garnered over 160,000 views and 100 comments. On June 14th, 2012, YouTuber Feedsy submitted a My Little Pony: Friendship is Magic version of the opening sequence, featuring a silhouette of the character Twilight Sparkle (shown below, right). In the next eight months, the video accumulated upwards of 63,000 views and 140 comments.
Draping
A still image from the opening sequence (shown below, left) inspired the photo fad Draping, in which the subject mimics the animated silhouette by sitting with their backs facing the camera and their right arm draped over the object they are sitting on (shown below, right). The single topic Tumblr[11] "Draping" was launched on February 3rd, 2012, in anticipation of the show's new season.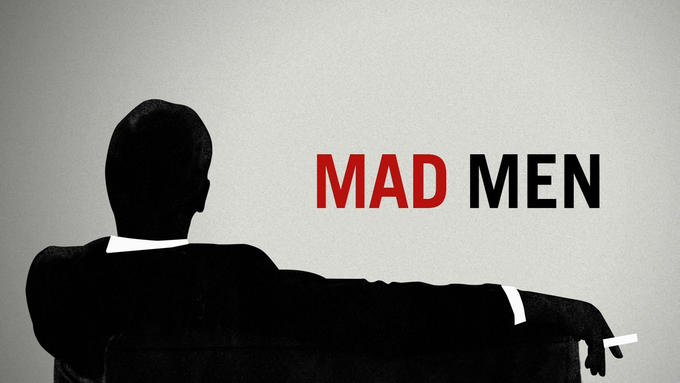 Notable Examples
Search Interest
External References
Facebook Comments