PROTIP: Press 'i' to view the image gallery, 'v' to view the video gallery, or 'r' to view a random entry.
Warning: This page contains material that may be considered not safe for work.

About
"Nigga Stole my Bike" (sometimes seen as NSMB) is a catchphrase that was originally paired with a cutscene sequence from the 1987 Nintendo boxing video game Mike Tyson's Punch-Out!!.[1] Since its emergence on Something Awful forums in 2003, the pixel art image and the phrase have inspired a colorful collection of derivative media similarly portraying a chase scene between two characters.
Origin
According to the YTMND Wiki[2], the phrase is a derivative of "Nigga stole my TV!"[3] which started on the OffTopic.com[4] forums sometime in 2002. The image of the Punch-Out!! cutscene was posted as part of a Something Awful Photoshop Phriday[5] contest held on March 20th, 2003. Created by SA forum user Allanon858, the still was taken from a training cutscene in which the protagonist, Little Mac, is shown jogging after his trainer riding a bike.

Spread
The first YTMND site using Allanon858's image was created on June 3rd, 2004[6], paired with a looped clip from the 2003 rap song Get Low by Lil Jon and the Eastside Boyz. The following month, YTMND user Duezce[7] created a second site[8] with the image, this time featuring a loop of a male narrator saying "nigga stole my bike." Dozens of other YTMNDs soon followed afterwards; There are over 1000 YTMNDs with the phrase "stole my bike"[8] as of April 2012.
Outside of YTMND, the photo and its derivatives have appeared on eBaum's World[15], FunnyJunk[16] and the GameTrailers forums.[17] "Nigga stole my bike" was first defined on Urban Dictionary[13] on August 24th, 2005. There is also a small Facebook fan page[14] for the page, which has 222 likes as of April 2012.
Notable Images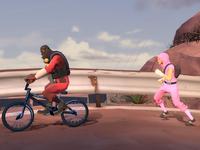 Notable Videos
On YouTube, searching for the phrase "stole my bike" yields over 2,000 video results.
Search Interest
External References
Facebook Comments