PROTIP: Press 'i' to view the image gallery, 'v' to view the video gallery, or 'r' to view a random entry.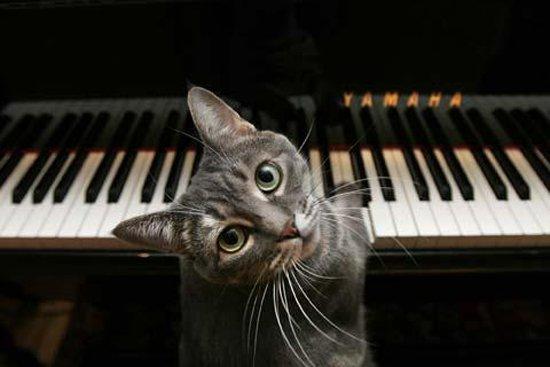 About
Nora is a grey tabby cat best known for her atonal musical meanderings on the piano. The cat's apparent love for music was prominently featured in the U.S. news media in 2007, following the viral rise of a YouTube video depicting Nora tapping on the piano keys.
Origin
Born in 2006, Nora was rescued from a shelter in Cherry Hill, New Jersey by piano teacher Betsy Alexander and named after the artist Leonora Carrington. According to Alexander, Nora began showing an unusual interest in music by sitting on the piano bench and tapping on the keys as early as when she was a year old. Since then, Nora has played the piano on a daily basis, occasionally performing duets with her owner and her owner's students.
On January 28th, 2007, Alexander took the suggestions from her suggestions and uploaded a homemade video of Nora onto YouTube. The video was met by sensational responses, generating over 22 million views in the span of five years. Months later, she posted a sequel video.
Spread
Following the viral reception in early 2007, Nora began receiving a wide range of press coverage from news websites like The Guardian, Philadelphia Inquirer and CBS to talk show programs like The Daily Show, The Tyra Bank Show and Martha Stewart.
In December 2007, the official website NoraThePianoCat.com was launched, which provides the latest updates as well as pictures and videos of Nora. The pet's owner Betsy Alexander continued to update her YouTube channel with more videos of Nora, many of which have gained six-figure views since the upload.
Nora's affection for piano attracted some academic and artistic interests as well; In the fall of 2007, the National Science Foundation screened a video about animal behaviors in its museums, which included a clip of Nora playing the piano; In July 2007, San Francisco-based avant-garde musician Dean Santomieri used a loop of Nora playing the piano in an improvised group performance in July 2007 and a video of Nora playing the piano was used at the 2007 National Conference of Keyboard Pedagogy. Betsy Alexander has also written a composition called "Fur Release: A Prelude for Paws and Hands," incorporating Nora's music into her own musical arrangement.
Remixes
In July 2009, Artist Cory Arcangel recreated a classic piece of atonal composition using clips of cats stepping on keyboards from the Internet. The video was subsequently posted onto YouTube.
Recently I took a few months of my free time and decided to recreate Arnold Schoenberg's 1909 op. 11 Drei Klavierstücke (aka Three Piano Pieces) by editing together videos of cats playing pianos downloaded from Youtube. Schoenberg's Op11 is often considered the first piece of "atonal" music, or music to completely break from traditional western harmony which means it's not written in a "key".
That same month, Lithuanian conducter and composer Mindaugas Piečaitis wrote CATcerto, a concerto constructed around a clip of of Nora playing the piano as an abstract solo. The piece was first performed by the Klaipėda Chamber Orchestra in the Klaipėda Concert Hall.
According to the official website of CATcerto, Piečaitis tribute to Nora "made the most popular list of BBC subjects, unexpectedly defeating news items about the elections results to the European Parliament."
Resurgence in 2009
Online interest in Nora saw a high resurgence in August 2009, following the success of another piano-playing cat video known as the Keyboard Cat. Numerous publications like MSNBC, USA Today and PawNation drew comparisons between Nora and The Keyboard Cat, while NBC's The Today Show broadcast a live interview with Alexander and Nora.
Records
In February 2009, Alexander released a DVD set of Nora's videos, which included some previously unseen footage of the cat before she became internet famous. Another CD of music with one song incorporating Nora's playing has been released by the Laurel Canyon Animal Company.
Search Interest

<script type="text/javascript" src="http://www.google.com/trends/embed.js?hl=en-US&q=nora the cat,nora cat,piano cat,piano nora,"keyboard cat"&content=1&cid=TIMESERIES_GRAPH_0&export=5&w=600&h=350">
External References
Recent Videos
There are no videos currently available.
Facebook Comments