About
Grumpy Cat is the nickname given to Tardar Sauce, a snowshoe cat that rose to online fame after several pictures of her annoyed facial expressions were posted to Reddit in late September 2012.
Origin
Grumpy Cat was born in Morristown, Arizona on April 4th, 2012 to her owner Tabatha Bundesen. The original photos of Grumpy Cat were posted to the /r/pics subreddit[1] by Bundesen's brother Bryan on September 23rd, 2012 (shown below).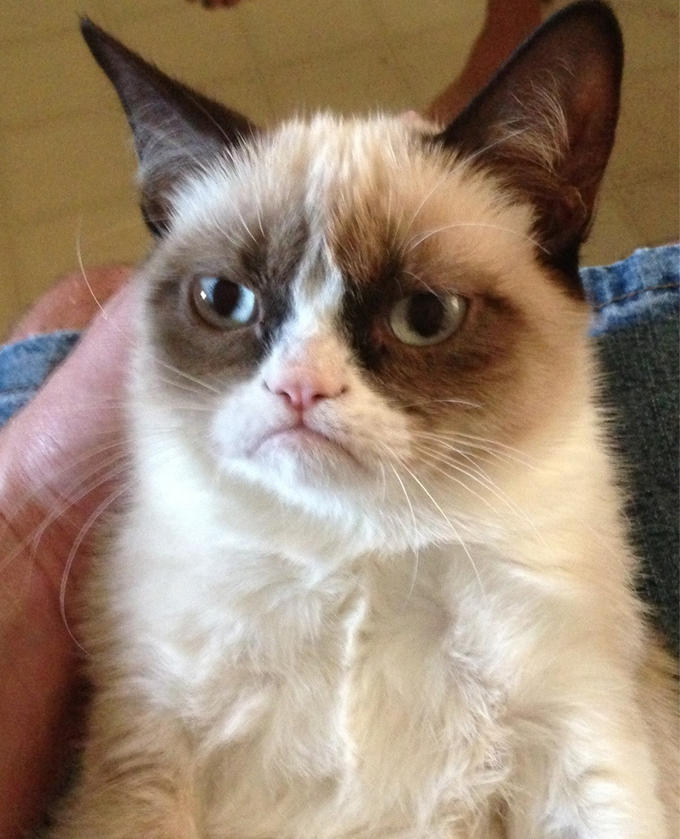 The Reddit post was instantly met with photoshopped parodies and image macros from others, reaching the front page with more than 25,300 up votes in the first 24 hours. Meanwhile, the Imgur page[13] gained nearly 1,030,000 views in the first 48 hours. The same day, three video clips of the cat playing indoors were uploaded to YouTube by Bundesen the same day.
Precursor
The name "Grumpy Cat" has been associated with pictures of scornful looking cats prior to this instance, mainly through the LOLcat image macro series X is not amused and Serious Cat.



Spread
Some Redditors responded to Catallades' post with photoshopped derivatives of the original picture (shown below), while others chose to caption the image with various statements from the cat's point of view (see notable examples). Later that same day, BuzzFeed[5] reblogged the images in a post titled "This Cat Is Not Impressed" and by popular demand, Redditor Cataliades submitted a follow-up post titled "Since everyone liked Grumpy Cat here are a few more"[2] on the next day. Within 48 hours of the original post, more than 300 posts associated with the keyword "Grumpy Cat" were submitted to Reddit and more than 100 image macros to the Quickmeme[3] entry.



The newly christened "Grumpy Cat" was also featured on numerous animal photo blogs and internet humor sites, including The Daily What[8], Paw Nation[6], The Meta Picture[9] and Eat Liver[16] on September 24th and UpRoxx[12], Daily of the Day,[11] The Huffington Post[45] and FunnyJunk[15] on September 25th. Some commenters even went onto draw comparisons between Tard's facial expression and other well-known stern-looking fictional characters like Ron Swanson (Parks & Recreation) and Dwight Schrute (The Office). In addition to its growing presence on Reddit, Facebook and YouTube, more image macros and pictures of "Tard" can be found on Tumblr[14] under the tag #grumpy cat. In addition, Grumpy Cat T-shirt merchandises are available for purchase on Clothes That Kill.[19]
On September 27th, Grumpycats.com[20] was created as the official homepage for Grumpy Cat, blogging videos, images and news mentions of the cat. On October 3rd, an official Twitter account, @RealGrumpyCat[21], was also launched. As of August 2013, Grumpy Cat's official Facebook[30] fan page has more than 1.1 million likes.
Notable Examples






Death
On May 17th, 2019, the official social media accounts for Grumpy Cat announced that Grumpy Cat died at age seven after contracting a urinary tract infection.[46][47]

The news was covered by a number of major outlets, including BBC,[48] The New York Times[49] and CNN.[50] In the hours following the announcement, social media posts honoring the memory of Grumpy Cat appeared on Twitter, Instagram, Reddit and other platforms (examples shown below).





#TweetAGrumpyFaceForGrumpy
Following the news of Tardar Sauce's death Twitter users posted pictures of their own grumpy cats in memory using the hashtag #TweetAGrumpyFaceForGrumpy. Twitter user @myleftfang's[51] picture received over 2,900 likes in a day (shown below, left). Twitter users @MollieM75164454[52] and @JoviLifer[53] also posted popular cat pictures which gained over 800 and 100 likes respectively (shown below, right).



Grumpy Grandma
On January 5th, 2012, Redditor KungPowChicken submitted a photograph of an irritable-looking elderly woman surrounded by three young women (shown below) to the /r/pics[24] subreddit, which received over 19,700 up votes and 1,800 comments prior to being archived. Over a year later on February 19th, 2013, the image was reposted on the Cheezburger site Memebase with the title "Grumpy Grandma is Grumpy." In the following three weeks, the post gained more than 460 upvotes.

On March 4th, Tumblr user The Frogman[22] posted several photoshopped images using a cut out of the disgruntled senior citizen (shown below) in a post titled "Grumpy Grandma Does Activities." The same day, the images were reblogged on the Internet humor site 9gag,[23] where they received over 20,000 up votes and 5,900 Facebook shares within 24 hours. Also on March 4th, the tech news blog Mashable[25] published an article about the photoshop meme, comparing the elderly woman to Grumpy Cat.






Grumpy Cat Art Project
In early 2013, more than 30 artists in residence at the Lowe Mill Arts & Entertainment art center in Huntsville, Alabama launched The Grumpy Cat Art Project,[27] a multimedia art exhibition that consists of various artworks inspired by Tardar Sauce, including sculptures, paintings, stained glass, chain-mail art, papercraft and soap carvings. According to one of the event organizers Dustin Timbrook, the exhibition aims to show the world that "art can elevate even the sillest subject,"[28] taking advantage of the cat's internet appeal to showcase the talent of resident artists at Lowe Mill. The pieces are scheduled to be auctioned off online between May 27th and May 31st, culminating in a one-night exhibition at the art center on the closing night of the event.[29]






Feature Film Project
On May 30th, 2013, Hollywood news site Deadline[31] reported that Broken Road Productions has optioned the rights to make a family comedy film based on Grumpy Cat's persona. According to the report, the film will be produced by Todd Garner[32], who has previously worked on dozens of films like XXX, The Sorcerer's Apprentice and Jack and Jill. Although little is known about the plotline, production crew or cast, Garner told Deadline that Tardar Sauce will be given a speaking role, in similar vein to Hollywood's live action adaptations of American cartoon series Garfield (quoted below).

"This started off as a picture of a cat, but rare is an image that evokes that much comedy," Garner said. "You read all of the memes and the comments, and one is funnier than the next. We think we can build a big family comedy around this character."
Commercialization
Merchandising
On September 30th, 2012, an official t-shirt line was launched through Clothes That Kill,[33] marking the beginning of Grumpy Cat's commoditization. Bundesen also runs a Zazzle store[34] that offers a wide range of merchandises, including posters, mugs, mousepads, phone cases and postage stamps.



As of August 2013, Grumpy Cat merchandise is carried in Urban Outfitters[35] and Hot Topic[36] stores, while online merchandising site Entertainment Earth lists a number of upcoming products, including a plush doll,[40] a holiday ball ornament[41] and a Kigurumi costume[42] among many others. (shown below)



Grumpy Cat: A Grumpy Book
On July 23rd, 2013, Chronicle Books published Grumpy Cat: A Grumpy Book[38], which reached #1 in Cats, Dogs and Animals Humor category on Amazon in two weeks.

Grumppuccino
Also in late July 2013, Bundesen announced[39] an upcoming line of coffee drinks called Grumppuccino[37] via Twitter (shown below, left), which were made available for pre-sale on August 7th, 2013 in three flavors -- coffee, vanilla and mocha.

Friskies Endorsement
On September 17th, 2013, American pet food company Nestle Purina PetCare announced via its Facebook page[43] that Tardar Sauce has been hired as the official "spokescat" for its Friskies brand of cat food. The announcement also revealed that the celebrity cat will make her first official appearance on October 15th at the annual Friskies Cat Video Contest Awards, where she will receive a lifetime achievement award.
Grumpy Cat Comic
On May 27th, 2015, Dynamite Comics announced that it would be creating a series of comics featuring Grumpy Cat and her brother Pokey titled "The Misadventures of Grumpy Cat and Pokey!". The first comic was a three issue mini series, set to be released in fall of 2015. Keith Davidsen, the Marketing Manager of Dynamite Entertainment said, "With her ever-present pout and sassy disposition, Grumpy Cat has won the hearts of people everywhere. I can tell you, we're thrilled, just absolutely thrilled, to bring this adorable curmudgeon's misadventures to the comic world!"[44]

Search Interest
External References