PROTIP: Press 'i' to view the image gallery, 'v' to view the video gallery, or 'r' to view a random entry.
OS-tan Windows family: Background, left (clockwise): Windows 98SE (in box), Windows 95, Symantec Antivirus (male), Windows 2000 (in front), Windows Server 2003 (fish outfit, with cat), Windows 98 (unusual form), Windows XP (holding skirt). Background, right: Windows 3.1, DOS (uncommon design). Foreground: Windows CE (fairy), Windows ME.
About
OS-tan is a popular series of Moe anthropomorphized characters drawn by Japanese amateur artists, with their personality traits based on various computer operating systems. The OS-tan mascots are typically depicted as women, with the OS-tan representative of Microsoft Windows operating systems usually depicted as sisters of varying ages. While they're fan-created artworks, most of the character designs for each OS-tan stay consistent among artists.
-tan Suffix
In Japanese, -tan (たん) is a childlike mispronunciation of -chan, an informal honorific suffix used to title friends and family. This is sometimes used to create a cute or charming effect with its association with young children.
Recently, -tan suffix is used to title personified mascot characters, usually female. When speaking to the character, sometimes normal suffixes (-san, -chan, or -kun) are used to the speaker's preference.
Origin
The concept of OS-tan originates from a Futaba Channel (2chan) discussion about Windows ME, notorious for its instability and frequent system crashes. Reflecting such deficiencies of the operating system, ME-tan's character can be summarized as a fickle, clumsy, troublesome girl. The first illustration of ME-tan was uploaded on August 6, 2003. As ME-tan became popular, OS anthropomorphisms expanded to the whole Windows family, Macs, Linux, and the other minor operating systems.
OS-tans
Character designs for the OS-tans are selected by popular opinion, but sometimes an OS has no universal standard design as artists push for their own character design.
Windows 7
Nanami Madobe is the official mascot for Windows 7, designed by Wakaba. She is the first OS-tan to have official support from Microsoft. She is part of the Windows 7 Ultimate DSP edition that includes Nanami Madobe wallpapers, and an event sound set voiced by Nana Mizuki.
Windows Vista
Vista-tan, or "Vis-tan", unlike its predecessors, does not have a universally accepted character design. The most popular designs are from the rivaling Futaba Channel and imageboards, both supporting their own designs and disregarding the others.
Futaba Channel's Vistake: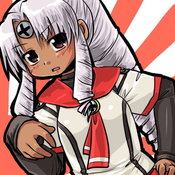 +Nijiura+'s Chiivistan:
Windows XP
Windows 2k
Windows ME
Windows 98 and 98SE
Windows 95

Windows NT
Windows CE

Mac OS X
Linux
Other OS-tan
In-memes
Negi
In OS-tan comics, the Windows girls sometimes are shown holding negi, or green onions. This is a Japanese pun on the popular Japanese firewall NEGiES, which is pronounced like negi. In the comics, they are used as a weapon or shield.
RAM

Breast Size and Resource Usage

A 'RAM' Comparison chart of the OS-tans

A popular concept with the OS-tans is the size of their breasts are proportionate to the operating system's minimum RAM requirements and resource usage. Before Vista, XP-tan is shown having the largest breasts, while MSDOS-tan is at the other extreme end of the spectrum.

An alternative concept for showing resource usage was a character's appetite. Because XP uses the most resources, she is usually depicted as eating an excessive amount of food.
Troubled Windows
An interactive flash called Troubled Windows (とらぶる・うぃんどうず Toraburu Windouzu) soon surfaced as a parody anime opening.
Google Insight
Facebook Comments