PROTIP: Press 'i' to view the image gallery, 'v' to view the video gallery, or 'r' to view a random entry.
About
Paul the Octopus was a common octopus (Octopus vulgaris) that lived at the Aquarium Sea Life Centre[1] in Oberhausen, Germany, known for successfully predicting the outcomes of Germany's 2010 World Cup matches. Paul would "predict" which team would win a match by choosing to eat a mussel out of one of two boxes marked with the flag of each team.
Origin
According to an article in The Telegraph[2] titled "10 Things You Didn't Know About Paul the Psychic Octopus", Paul began predicting Germany's results during the Euro 2008 tournament when he correctly chose the winner in four of Germany's six matches. To make a prediction, Paul was presented with two boxes containing food. One box would be marked with the German flag, and the other was marked with their opponent for the next match. During the 2010 FIFA World Cup, Paul managed to predict the winners for all seven of Germany's matches.
Spread
On July 8th, 2010, the viral content site BuzzFeed[4] published a post titled "Paul, The Psychic World Cup Octopus", which included several links to relevant stories about the octopus. On the following day, the musician Parry Gripp uploaded a music video titled "Paul the Octopus" to YouTube, which accumulated over 1.2 million views within two years.
On July 13th, the Internet culture blog Urlesque published a post titled "Pulpo Paul the Octopus Picked the World Cup Winner and Became a Meme", which highlighted the Parry Gripp music video. As of August 2012, the "Paul, The Psychic Octopus" Facebook[3] page has accumulated over 199,000 likes.
Death
On October 26th, 2010, Paul died in his sleep due to natural causes at his aquarium in Germany. After his remains were cremated, a small burial plot was placed at the Oberhausen Sea Life Centre. On the same day, CNN aired a segment about the Internet's reaction to the death of the octopus:
Notable Examples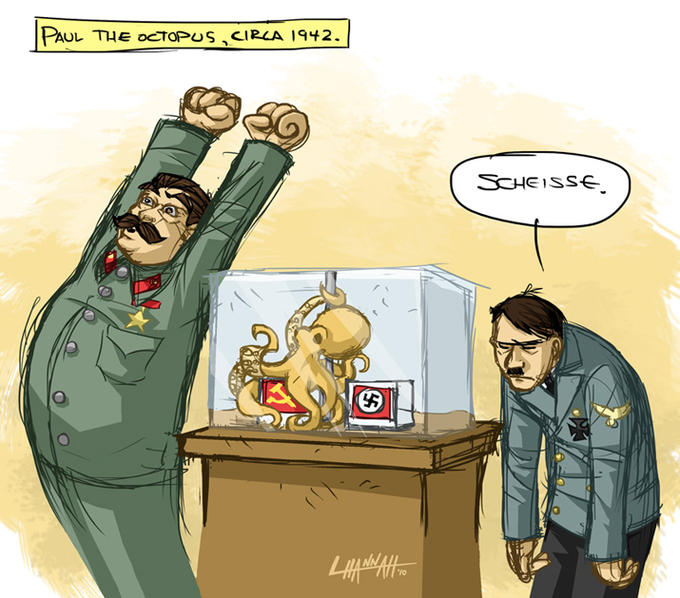 Search Interest
External References
Facebook Comments