PROTIP: Press 'i' to view the image gallery, 'v' to view the video gallery, or 'r' to view a random entry.
This submission is currently being researched & evaluated!
You can help confirm this entry by contributing facts, media, and other evidence of notability and mutation.
About
Arctic Monkeys is a British indie rock band consisting of members Nick O'Malley, Jamie Cook, Matt Helders, and Alex Turner. The group has not only enjoyed both commercial success and critical acclaims as part of the post-punk revival, but it has been also credited as one of the first indie bands to rise to mainstream prominence primarily through free file-sharing and fandom on the Internet.
Online History
Early Career
In June 2003, Arctic Monkeys played its debut performance in Sheffield, England. In the following year, the band recorded 17 songs as a demo compilation and gave them away at their shows, soon leading to its online circulation via file-sharing sites. During the course of peer-to-peer sharing, the demo album became ubiquitously known as Beneath the Boardwalk as one of the first senders decided to name them after where he obtained the CD, the Boardwalk. The band later stated in an interview that they never intended to make money from the demos and credited their fans for the early internet fame.
In 2005, Arctic Monkeys signed with their first label, Domino Records.[1] Their first and second singles "I Bet You Look Good On The Dancefloor" and "When The Sun Goes Down" both debuted at number one on the UK charts.
In January 2006, the band released the debut album Whatever People Say I Am, That's What I'm Not, which sold more than 360,000 copies in its first week and drew the attention of several critics' publications. The album has since become the fastest selling debut album in British music history and gone quadruple platinum in the UK. That same year, the group was nominated for two Grammy Awards in Best Rock Instrumental Performance and Best Alternative Music Album.[5] As of February 2014, The band has recorded a total of five albums: Whatever People Say I Am, That's What I'm Not (2006), Favourite Worst Nightmare (2007), Humbug (2009), Suck It and See (2011), and AM (2013).
Online Presence
As of February 2014, Arctic Monkeys' Facebook Page[2] has over 4.6 million likes and their Twitter account[3] has over 800,000 followers. There are also over 6,000 fan art submissions for the band on DeviantArt[8].
On Tumblr
The band is very popular on Tumblr, where in one month alone there were 57,000 posts tagged Arctic Monkeys. Popular fan runs Tumblr dedicated to the band include fuckyeaharcticmonkeys[6] and arcticmonkeysus.[7] In addition to Tumblrs focusing on the Arctic Monkeys' music, there are blogs dedicated to curating fan fiction and fan art about the band. Tumblr blog arctickanefanfiction[9] published its first fic on April 24th, 2012. Followers may submit their own fan fiction to be posted by the blog. Arcticmonkeysart[10] was created on June 10, 2012, which focuses on fan art for the band including sketches, painting and mixed media. There are also blogs dedicated only to the band's lead singer Alex Turner, including arcticalex[11] and alexturner.[12]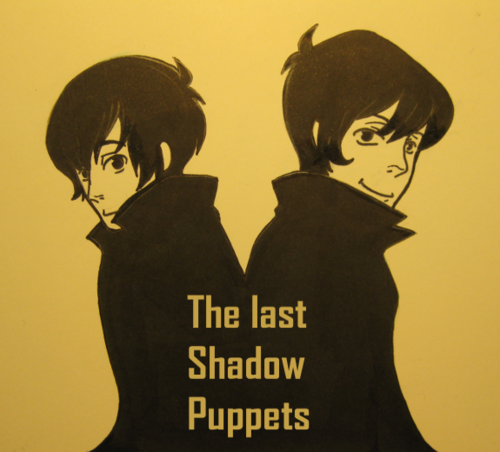 Reputation
Popular in the UK since their first single, they performed during the opening ceremony of the London 2012 Summer Olympics. Their mainstream popularity in the United States was cemented when they sold out a performance in New York City's Madison Square Garden on February 8th, 2014. Their concert fell on the 50th Anniversary of The Beatles performance on the Ed Sullivan Show, and the cover of The Beatles' song "All My Lovin'" they performed that night was uploaded to YouTube the next day. In less than a week it gained over 100,000 views.
Following the band's Madison Square Garden performance, Tumblr's music evangelist, told the newspaper The Guardian[4] that "This[the Arctic Monkeys] is bigger than Lady Gaga on Tumblr right now." Auerbach went on to explain, "The internet is the new Ed Sullivan show," meaning he believes American audiences are discovering Arctic Monkeys on Tumblr like Americans discovered The Beatles through TV.
Related Memes
Jumping Alex
Jumping Alex is a photoshop meme featuring a photo of the Arctic Monkeys guitarist, songwriter and vocalist Alexander David Turner[2] jumping on stage in mid-air. The images are typically edited to make it appear as if Turner is jumping in a variety humorous contexts.
Search Interest
External References
Recent Videos
There are no videos currently available.
Facebook Comments