PROTIP: Press 'i' to view the image gallery, 'v' to view the video gallery, or 'r' to view a random entry.
This submission is currently being researched & evaluated!
You can help confirm this entry by contributing facts, media, and other evidence of notability and mutation.
About
Fred (stylized FЯED) is a YouTube account started by Columbus, Nebraska native Lucas Cruikshank[19] on October 1st, 2005.[1] His videos featured him portraying him as a hyper-active six year-old boy named Fred Figglehorn, and several other off-screen characters, whose voices have been altered in post-production to varying pitches. Due to the extremity of these videos, Cruikshank soon turned into a viral internet sensation, gaining dozens of sponsors, several awards, as well as spawning movies made after the titular character, which were distributed and produced by children's television network Nickelodeon.
Origin
The first Fred video appeared on October 30th, 2006, posted on the YouTube channel JKL Productions[2], a channel run by Lucas and two of his cousins, Jon and Katie. In it, the character records a video showing him talking about Halloween and himself.[5] Cruikshank would later record several more videos of the character reacting to holidays the following year, after which he relocated them to his own channel that he had started earlier.
The character Lucas Cruikshank created for his videos is known as Fred Figglehorn, a high-pitched socially awkward, hyper-active boy living alone with his mother, a polar opposite of Fred that is deep-pitched and passive, and apparently never seems to help him. Other characters include a girl named Judy, a girl that Fred happens to be attracted to, as well as a bully named Kevin, who is also his next-door neighbor as well as a girl named Bertha, who frequently harasses Fred.
In the original YouTube series, Fred was the only character visible on camera, with the dialogue of the other characters dubbed and added in the video during post-production. Following the popularization of his show and the production of his new movies, these off screen characters were portrayed by Siobhan Fallon Hogan, Pixie Lott, Jake Weary and Jennette McCurdy respectively.
Spread
Shortly after posting new videos to his channel, views on his channel skyrocketed and made his videos go viral, even to the point that he was interviewed by 24-hour news cable station CNN.[3] In the interview, Cruikshank contemplated killing off the character and move on, but would later decide against it and continued to post videos to his channel. He also stated that he made the series to parody vloggers and the trivial content they posted in the videos.
While many people praised his show, there was also a sizable group of people who disliked the show due to Fred's obsurdity and other elements, and made hate videos of the character and Cruikshank.[6]
One of the most notable hate videos was an animated video by famous YouTube animators OneyNG and Harry Partridge, in which the former shoots Fred in the face and proceeds to shoot the rest of his head off.[4] The video received a lot of criticism from Fred fans, which OneyNG subsequently collected and posted them in an updated version of the video.
Fred's popularity led him to become featured in cameos on other shows, both on YouTube and on television, as well as creating a animated mini-series based on the show. He has done music videos[22], and has also won and been nominated awards for his work.[23] Because of his popularity, Celebrity Networth evaluated Lucas Cruikshank with a networth of $5 million (USD).[24]
First Appearance on Nickelodeon
On February 16, 2009, Cruikshank made a cameo as both himself and as Fred in an episode of T.V show iCarly, titled "iMeet Fred".[7] In it, Freddie, one of the members of the iCarly show criticizes Cruikshank's show, only for iCarly to experience backlash from Fred fans. The crew then makes Freddie to make amends with Cruikshank. Cruikshank accepts the apology, and the two shows film a special Fred/iCarly crossover episode for their fans.
Films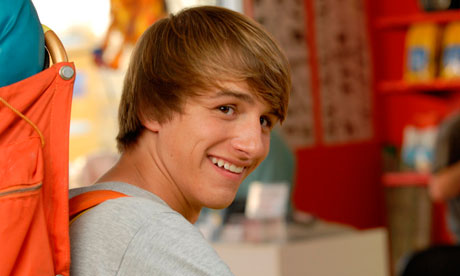 In November of 2009, Cruikshank started production on his first Fred film with Norbit director Brian Robbins.[8] The film was to be a comedy-film that would be released in theaters, but instead debuted on Nickelodeon[10], with theatrical releases in England and Ireland.[14] Because of a younger target audience, background plot elements had to be changed or redacted to be suitable for children. Also affected in the plot changes was Fred's age, which was changed from six to fifteen years old. The movie was received with universal negative criticism and has a 0% rating on Rotten Tomatoes.[9] Despite this, two more films were produced and aired on Nickelodeon.[12][13] Because of the movies, Nickelodeon has spawned a Fred television show, which was used to promote the third movie.[21]
First Acting Role Outside of Fred


On November 24th, 2012, Lucas Cruikshank starred in an acting role outside of Fred. Starring in the T.V sitcom Marvin Marvin[16] Cruikshank plays as a refugee alien named Marvin, who was sent to Earth by his parents to escape invading aliens attacking his home planet Klooton. Adopted by humans on Earth, Marvin is now stuck on the planet and forced to learn societies customs and conceal his identity until the war ends.
According to a public release by Nickelodeon[15], Vice President of Current Series Paula Kaplan said:
"Lucas' impressive comedic talents and creativity put him in a class of his own. We're incredibly excited to continue our relationship with him and know his fans will enjoy seeing this quirky new character and the rest of this talented cast in this fun new comedy."
The show is aired on Nickelodeon, and was originally slated for 26 episodes, but eventually only produced 19 so the show could premiere earlier. Like his previous movies, Marvin Marvin was not received positively by critics.[17][18][19]
Search Insights
External Links
Facebook Comments