PROTIP: Press 'i' to view the image gallery, 'v' to view the video gallery, or 'r' to view a random entry.
This submission is currently being researched & evaluated!
You can help confirm this entry by contributing facts, media, and other evidence of notability and mutation.
About
Guccifer is the online pseudonym of a hacker who is known for compromising the security of several high-profile political targets, including members of the Bush family, former Clinton aide Sidney Blumenthal and former Secretary of State Colin Powell.
History
Bush Family Hacks
On February 7th, 2013, The Smoking Gun[1] reported that a hacker calling himself "Guccifer" posted photos and email exchanges taken from the email accounts of several family members of former President George W. Bush. Among the photographs were self-portraits of Bush taking a bath and shower (shown below).[2]
Guccifer reportedly told the Smoking Gun that the federal government had been investigating him for some time and that he was not worried about being caught, adding "i have an old game with the fucking bastards inside, this is just another chapter in the game."
Colin Powell Hacks
On March 11th, 2013, The Smoking Gun[6] reported that Guccifer hacked the Facebook account of former Secretary of State Colin Powell, where he proceeded to post several status updates insulting George W. Bush (shown below). The same day, Powell posted a status update[4] that the hacking problem had been fixed after working with Facebook.
On March 13th, The Smoking Gun[5] published an article revealing that Powell's AOL e-mail account had been compromised by Guccifer as well, who was able to access Powell's personal financial documents and communications with several former government officials.
Sidney Blumenthal Hacks
On March 15th, 2013, The Smoking Gun[7] reported that Guccifer had managed to break into the AOL email account of Sidney Blumenthal, a senior White House adviser to former President Bill Clinton. In the account, Guccifer obtained many emails between Blumenthal and Hilary Clinton, among other correspondences with Washington insiders. The article also mentioned that Guccifer left a message regarding the purported secret society known as the "Illuminati".
"the evil is leading this fucked up world!!!!!! i tell you this the world of tomorrow will be a world free of illuminati or will be no more,"
On March 18th, The Smoking Gun[8] published a follow-up article about several confidential memos Guccifer discovered in Blumenthal's email account, which he disseminated to hundreds of recipients. The memos referenced several incidents in Libya, including an attack on a U.S. mission in Benghazi on September 11th, 2012 (shown below). To distribute the messages, Guccifer pasted them into a new document using the Comic Sans font. The article also reported that two IP addresses connected with the hacker had been traced to Russia and several emails containing the Blumenthal memos were distributed to Russian reporters.
Candace Bushnell Hacks
On May 6th, 2013, Guccifer infiltrated American author Candice Bushnell's e-mail account and obtained a partial manuscript of the Sex and The City author's upcoming novel titled Killing Monica that she had sent to her editor at Grand Central Publishing. The 37,000-words document was then converted into 50 screen-captured images and uploaded via Google Drive (shown below, left).[11] Guccifer also took control of the author's Twitter account and shared a link to the Google Drive page with her 9,100 followers, effectively leaking the manuscript out in the open (shown below, right).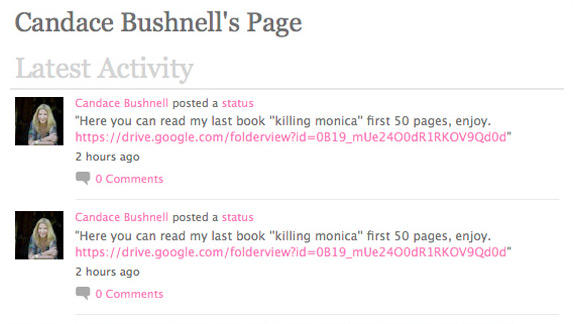 On the following day, The Smoking Gun[12] and Gawker[13] reported on Guccifer's latest exploit, the former of which citing an e-mail allegedly sent from the hacker himself. Bushnell also confirmed the breach of her accounts and revealed that a similar attempt were made on her Facebook account from an IP address in Albuquerque, New Mexico. Later that same day, the elusive hacker uploaded two additional screenshots of Bushnell's panicked e-mail correspondence with the editors to the same Google Drive page.
Search Interest
External References
Recent Videos
There are no videos currently available.
Facebook Comments