About
The Illuminati is a purported secret society consisting of world governments, corporations and celebrities that play an important role in global affairs. Many believe the goal of the organization is to establish a global totalitarian government known as the "New World Order." Due to its long history in American mythology, conspiracy theories regarding the Illuminati are prevalent online and are often mocked by those who are skeptical of the organization's existence.
Origin
The historical group known as Illuminati was founded by German philosopher Adam Weishaupt and four other members in Inglostady, Bavaria on May 1st, 1776. The society was made up of "free thinkers" of the enlightenment era who vowed to keep its existence a secret. The original Bavarian Illuminati was allegedly disbanded after Karl Theodor became ruler in 1777 and subsequently banned all secret societies. The first conspiracy theories surrounding the Illuminati surfaced in 1798, when authors Augustin Barruel and John Robison claimed the secret society had not disbanded and had played a role in causing the French Revolution. Contemporary theories typically state that the Illuminati has remained an unseen force in control of world leaders, celebrities and the media.
Eye of Providence
A symbol that is often associated with the Illuminati online is the Eye of Providence,[8] which consists of an eye enclosed within a triangle. A depiction of the symbol is shown on the United States one-dollar bill (shown below). The symbol became associated with Freemasonry[11] in 1797, a fraternal organization which many associate with the Illuminati.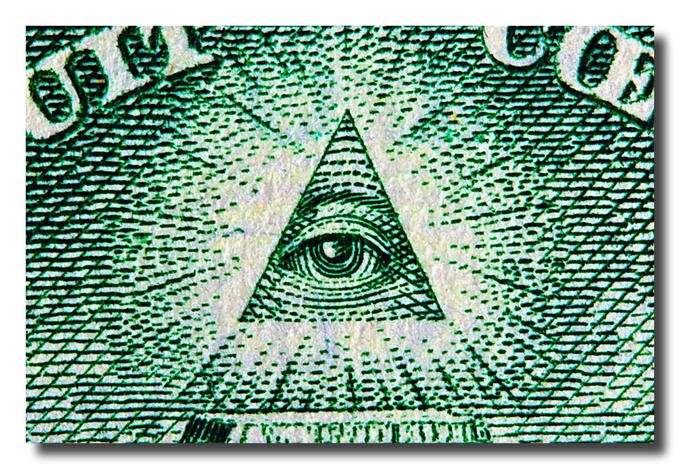 Spread
On November 20th, 2002, the domain name itanimulli.com[6] was registered, which forwards visitors to the website for the United States National Security Agency (NSA). On May 31st, 2005, Urban Dictionary[13] user New Rising Sun submitted an entry for the word "Illuminati," defining it as "a secret organization of the most powerful and influential elite in the world." On February 7th, 2007, YouTuber thelight101 uploaded a documentary about secret societies titled "The Illuminati" , receiving over 3.2 million views and 11,900 comments in the next six years. The video has since been removed.
On May 13th, 2010, the @ThelIluminati Twitter feed was created, which featured tweets written from the perspective of a secret organization. Within three years, the profile received more than 1.1 million followers.
We're Watching You.

— The Illuminati (@ThelIluminati) January 28, 2013
On February 11th, 2011, Dipity user rconway created an "Illuminati in Hip-Hop" timeline containing news stories linking hip-hop artists to the alleged secret society (shown below).
On January 7th, 2012, Redditor Norkal submitted a screen capture from a My Little Pony: Friendship is Magic episode containing an Eye of Providence to the /r/mylittlepony[9] subreddit (shown below), remarking that the Illuminati had made it into the animated television show.

On February 28th, Gawker[3] published a "comprehensive guide to the Illuminati," which provided a humorous description of those who believe in the organization's existence:
"Ron Paul voters, people who are in militias, washed-up rappers, teenage R&B fans on Twitter, and that one guy from high school who is always posting links to Erowid "experiences" to Facebook."
On September 21st, Redditor shady_alley_groper submitted a post to the /r/hiphopheads[7] subreddit asking if any other users were sick of people accusing Jay-Z and Kanye West of being part of the Illuminati. On October 12th, MSNBC[4] aired a news segment about 4chan's backlash against director Michael Gallagher for his horror movie Smiley Face, in which YouTuber Shane Dawson called 4chan users "the Illuminati of the Internet" (shown below). On October 24th, a Facebook[10] page titled "The Illuminati" was created, receiving over 485,000 likes within the next four months.
Tila Tequila Conspiracy Theories
The American model and television personality Tila Nguyen (a.k.a. Tila Tequila) has published several blog posts and web videos about her beliefs concerning the Illuminati. On April 14th, 2010, Nguyen launched the blog MissTilaOMG,[1] which often featured tirades attempting to expose Illuminati activities. On October 6th, 2012, Nguyen uploaded a video to her official YouTube channel, in which she claimed to have proof exposing the secret organization (shown below). Within four months, the video received over 400,000 views and 7,700 comments.
Beyonce's Illuminati Hand Signal
During the halftime show at Super Bowl XLVII in February of 2013, the singer-songwriter Beyonce Knowles made a triangle-shaped hand gesture that many online joked was a symbol for the Illuminati. Prior to this episode, both Beyonce and her husband rapper Jay-Z had been speculated of being involved with the Illuminati on several occasions.

Notable Examples
Videos
Image Macros






Search Interest
External References