PROTIP: Press 'i' to view the image gallery, 'v' to view the video gallery, or 'r' to view a random entry.
This submission is currently being researched & evaluated!
You can help confirm this entry by contributing facts, media, and other evidence of notability and mutation.
About
The Majesty (Japanese: 陛下, Heika), sometimes translated as Emperor simply, is the oldest parody picture collage meme in Futaba Channel (2chan). He is also counted as the top of "Nijiura Magnificent Ten" (虹裏十傑集, Nijiura Jukketsu Shu) that are most important and earliest 10 memes of 2chan's /b/ (Nijiura) board.
Origin
Around the beginning of 2003, Futaba was still just an online forum for some Otaku people. There wasn't creative momentum though people were talking aggressively all over the night on the boards.
According to the article for Futaba in Wikipedia[1], this situation began changing in the end of that January by an old men's picture posted to a thread in /b/ board by an anonymous user. The old man with gentle looks and a strange costume said to other anonymous users who were engaging in a heated discussion in the midnight: "Gentlemen, Go sleeping" (お前ら、もう寝なさい, Omaera, Mou Nenasai)

"Gentlemen, Go Sleeping"
The Man
The old man in the picture is Torinomias The 3rd, the emperor of planet S-1 in the Japanese cult minor TV anime series Space Warrior Baldios.[2] This dovish emperor has not much of a presence because he is assassinated in the first 10 minutes in the 1st episode.
And due to its incorporation of quite minor popularity of the TV anime series, even hardcore anime Otakus hardly knew him in those days.
Spread
The combination of enigmatic character's unclouded eyes and nerveless remark brought surrealistic lulz to midnight's enthusiastic discussions. People were soon fascinated by him while complaining "Who is this old coot?" (誰このジジイ, Dare Kono Jijii). This picture with the catchphrase soon became one of the typical reaction faces in the Nijiura board, and he became to be called "The Majesty".
Then, Nijiura users also began posting funny collages and GIF animations reusing his picture, and competing its funniness. At one time, many of those hundreds creations was listed in archive pages for The Majesty.
Nowadays, he is known familiarly as the emperor of Glaska in the planet ZUN from Space Warrior Balroy, which are fake settings given by Nijiura users themselves. And "Who is this old coot?" has been also a schtick for the response to his picture in Nijiura board.[3]
Besides, it is said that their activity in this emperor collages is the first creative movement and the seedbed of subsequent memes/fads in Futaba. This GIF animation of The Majesty shaking his head is one of the earliest instances in this fad and is told as the great milestone of Futaba's culture.
Appearance in Super Robot Wars
In 2008, Baldios was first included in the video game for PlayStation 2 Super Robot Wars Z[4], which is in the Japanese popular tactical role-playing video game franchise Super Robot Wars series. Though he was a quite minor charecter in the anime, Takanobu Terada, the producer of this game series, said "We've prepared the illustration for The Majesty." at the official pre-release event for this title held in Akihabara on June 28th, 2008.[5]
True to his words, Torinomias The 3rd appears at the beginning of 17th episode in the game and is soon killed as same as the original TV anime series. Moreover, one of 4 lines staffs gave to him is "What happened? Now it's time for me to sleep".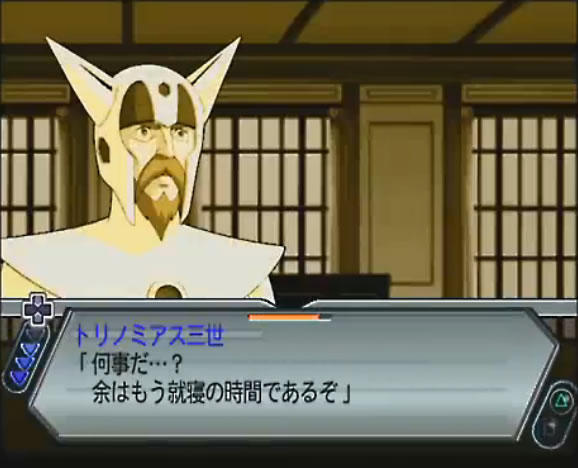 This episode is known as one of the evidences of how this meme spread, and is described in Nico Nico Pedia.[6]
Examples
Photo Collages & Illustrations
GIF

animations



M.U.G.E.N Character
In full M.U.G.E.N game "NIjikaku", Futaba users give 2 incarnations to The Majesty: Heika (shown left) and Heika SS (shown right).
Search Interest
The term "Go Sleeping" (もう寝なさい) recorded the highest peak in September 2008 when Super Robot Wars Z was released in that month.
External References
Editor's Note: Futaba relating websites basically prohibit people from introducing their URLs in the external. Do not write the URLs in articles or comments. Please use search engines.
Recent Videos
There are no videos currently available.
Facebook Comments