PROTIP: Press 'i' to view the image gallery, 'v' to view the video gallery, or 'r' to view a random entry.
About
"What People Think I Do / What I Really Do" is a series of visual charts depicting a range of preconceptions associated with a particular field of occupation or expertise. Unlike image macro series that are based on singular stereotypes like Advice Animals, this series compares varying impressions about one's profession held by others, self-image and the often mundane reality of the job.
Origin
The "Science Student" instance of the series was first spotted on Facebook February 7th, 2012. The chart summarized various preconceived notions and generalizations that are associated with that field of study.

Precursor
The multi-perspective approach in visual jokes has been previously adapted by other survey template memes like "How People View Me After I Say I'm X" and "What I Watched vs. What I Expected vs. What I Got".

Spread
The "Contemporary Artist" instance was uploaded by artist Garnet Hertz via his Facebook page[9] on February 9th, 2012. The "Property Manager" variation was created by Know Your Meme member "fastnup" on February 10th, 2012 and the trend logged. Similar image "what people think directors do" was posted by Canvas user ItchyBarracuda[1] and the thread spawned several derivative versions including freelance programmer, tech support and videogame beta tester.

The "Director" instance was picked up by a number of personal blogs[3][4][5] and professional websites on the following days, spawning additional derivatives along the way. On February 13th, PC Magazine[6] reported on the series as a trending meme on Facebook. The same day, photography website Fstoppers[2] presented the photographer's edition in an article titled "Photographer MEME: What People Really Think I Do."
Notable Examples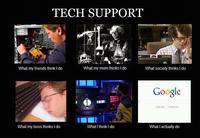 Template

Meme Builder
Search Interest
External References
Recent Images 1,276 total
Facebook Comments