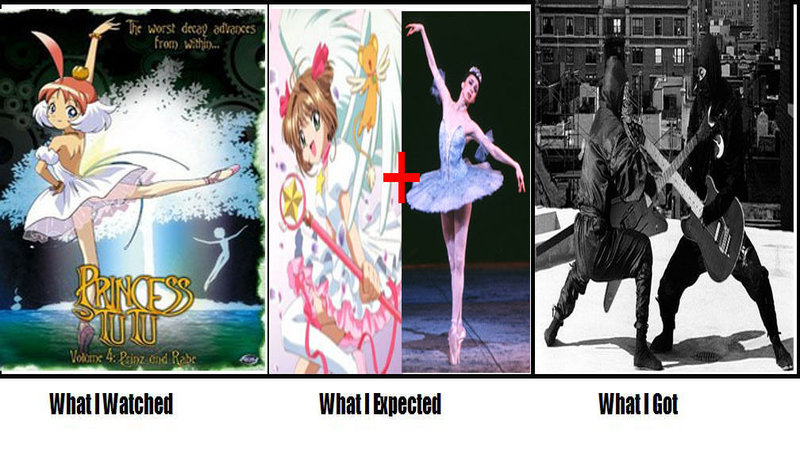 What I Watched / What I Expected / What I Got
About
"What I Watched, What I Expected, What I Got" is an image macro series that consists of three visual metaphors on any given subject topic, with most iterations typically commentating on popular animes and video games. Rather than elaboration through text, the image comparison conveniently illustrates various discrepancies between the anticipation and the actual reception surrounding consumer media.
Origin
The most well known instance of these review charts is one for the anime series Princess Tutu, possibly originating from a forum thread posted on Something Awful[1] forum in 2007 . The review was a simple one, showing the viewer's expectation to be a simple magical girl series akin to Cardcaptor Sakura, albeit with ballet. However, what the viewer actually got was something beyond magical, beyond ballet… it was… AWESOME. The only way to sum up how awesome this series was in one image was to use the mighty guitar ninjas. Such exaggerated comparison of Princess Tutu and ninjas with guitars spawned another inside joke Guitar Ninjas, which is well-known for being the definition of awesome.

Spread
Summarizing a series using simple image concepts was an instant hit, as many results ending up either witty or hilarious. As the meme spread, it evolved. First moving from reviews of a show's plot to other subjects such as animation quality to the translation of a series into English. From there it went further into other subjects such as video games, parodies of certain communities, and politics.
Notable Examples









Who I Mained…
In January 2015, a derivative series known as "Who I Mained, What I Expected, What I Got" began tending on Tumblr, illustrating the differences between what gamers had expected of their favorite characters and how they actually fare (the term "maining" signifies a gamer's choice of a favorite character).



Blank Template

Search Interest
External References
Recent Images 1,086 total