PROTIP: Press 'i' to view the image gallery, 'v' to view the video gallery, or 'r' to view a random entry.
Disclaimer: If you are epileptic or prone to having seizures, then you may want to avoid clicking the links and images in this entry.
---
About
X Raves images are usually GIF animations or videos transforming a normal scene into its rave equivalent by adding various bright flashing colors, glowsticks and a rave-related soundtrack to it. It bears many similarities to Party Hard images.
Origin
The terms Rave, rave dance or rave party have documented use as far back as April 4, 1970. They refer to dance parties, and in 1980 'Acid house' parties, with fast-paced electronic music and light shows. People often dance to music played by DJs and occasionally live performers. Some of the genres of electronic dance music played include House, Trance, Electro House, UK Hardcore, Hardstyle, Drum and bass, Dubstep, Breakbeat, Hardcore techno, Funktronica, Psytrance and Jungle with the accompaniment of laser light shows, projected images and artificial fog.
(Source Wikipedia : see link)
In popular culture, rave parties are mainly characterized by the use of lightshow, glowsticks and drug abuse.
Party Hard
In 2003, Something Awful users were among the firsts to initiate a series of GIF animations featuring people dancing with rave-like colors. It launched its own trend with the Party Hard macro coming from the title of one of Andrew W.K songs released in 2001.
More information can be found in the Party Hard entry.
Y.T.M.N.D fad
On YTMND, sites of characters dancing to raving flashy colors and holding glowsticks started appearing as far as June 2004 with Pokémon rave (NSFW) by user WalaLuigi, gaining more than 20 000 views.
There also is a modified GIF animation of a scene from anime Azumanga Daioh with a techno track that has become very popular among anime fans.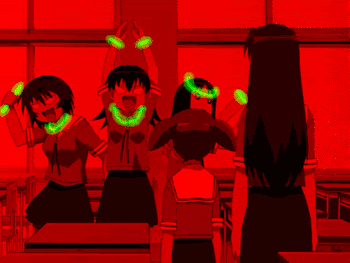 Azumanga Rave Daioh
It was called Azumanga Rave Daioh, was uploaded in September 2004 and has gathered more than 60 000 views.
Another site followed up in November, named Lightswitch Rave, in reference to the Homestar Runner skit, and has more than 31,000 views.
According to the YTMND wiki article, the fad didn't really take off until May 2005 with the YTMND site Laser Rave showing raving robots from the Transformers cartoon. It was set to Evolution (Time Is Pop mix) by J-Pop artist Ayumi Hamasaki.
The page has gathered more than 251,000 views to date.
Some other recurring songs would be part of the fad Kernkraft 400 by Zombie Nation, Supernova by Transa and Sandstorm by DaRude. Those 4 songs would be featured in the YTMND soundtrack.
Rave remixes have become a significant part of the fad as well:
Rave Remixes

In addition, various songs will often be remixed into rave songs using either audiotools, or the internet to find various remixes. Some fads may be remixed into "rave remixes" with their dialogue set to the music.
The fad has spawned more than 2,000 creations on YTMND alone.
Among the most popular YTMNDs, sorted by views, are:
Spotlight: Conan Raves
The Conan Raves YTMND, created September 11 2005, includes a peculiar GIF animation of the scene from movie Conan the Barbarian in which Arnold Schwarzenegger, playing Conan, is seen training with his newly acquired sword Atlantean.
A video upload entitled Arnold Rave would follow in December 2005 and has gathered more than 3 million views to date on Youtube:
It would spawn its own trend of videos on Youtube featuring Arnold Schwarzenegger holding glowsticks and dancing to techno tracks.
Among them can be found:
Ravinator Rave-Off
arnold raver remix
ArNoLd RaVe gone CrAzY!!
arnold rave remix by tyler durden
Gif Collections
Facebook Comments