Does 6ix9ine Have A Boyfriend And Did Their Explicit Video Leak On Twitter? The Viral Rumor Explained
Rapper 6ix9ine surfaces in memes and internet discourse every now and again, but this week he's in the news for allegedly having a boyfriend, seemingly coming out as gay. There's even a rumor on Twitter about him and his boyfriend's private video leaking on social media.
Although it might be believable for some, for others, it raised skepticism. Who exactly is 6ix9ine's supposed boyfriend and where did this video leak? Let's explain.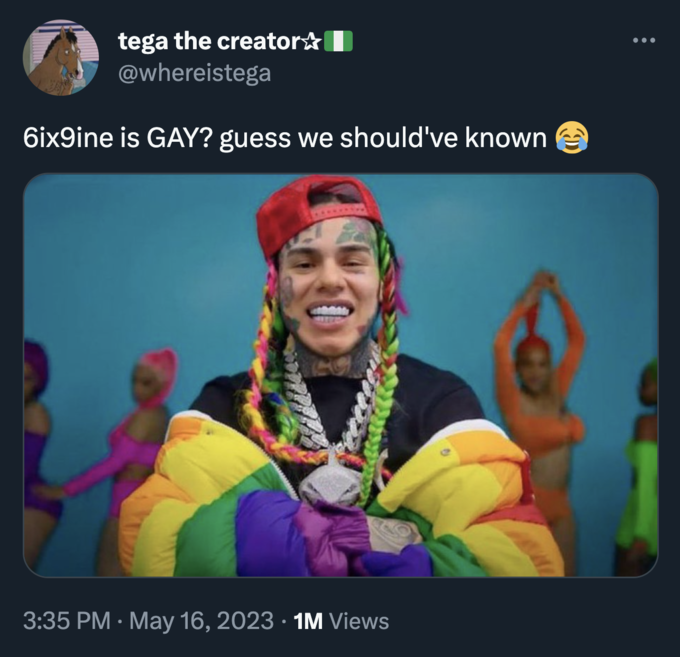 Who Is 6ix9ine's Boyfriend?
A photo of 6ix9ine kissing another man on the cheek was reposted to Twitter this week, which alluded to some that the other man must be romantically involved with Tekashi. The rumor started from a viral tweet that pretended to be shocked by the discovery.
With a little bit of research, the photo in question was posted by Mexican recording artist Eduin Caz to his Instagram account @eduincaz earlier this month. The photo's caption uses the Spanish word "carnal" which directly translates to "fleshy" in English. However, it's often used as a way of saying "blood brother."


Is Eduin Caz 6ix9ine's Boyfriend?
The short answer is no, or at least, 6ix9ine has not publically announced that they're dating. It appears to be just a happy photo of the two men doing a non-conventional greeting. However, it's worth noting that 6ix9ine has also not yet publically denounced the rumor. Regardless, it seems like an obvious hoax.
Did A Gay, Explicit Video Of 6ix9ine Leak?
Due to the virality of the "6ix9ine's Boyfriend" rumor, a video started circulating that showed an adult film star that looked an awful lot like 6ix9ine, sporting the same long, rainbow-colored hair. However, again, the rumor is unfounded. The video was posted over a year ago and by different, amateur people.
---
For the full history of 6ix9ine's boyfriend rumor, be sure to check out our entry on the meme here for even more information.