What Is 'Explosive Reactive Armor' And Why Are Ukrainian 'Flork Of Cows' Soldiers Putting It On Everything?
Reddit has been ablaze with Explosive Reactive Armor memes, mostly because there's a growing perception that the Ukrainian military is putting them on everything.
If you're unfamiliar with ERA, the stuff is used to protect tanks and it's become increasingly notable in the Russia-Ukraine conflict. Since the Russians invaded, the use of reactive armor has been discussed on 4chan, but it's only just become an exploitable in the past week or so.
Still confused as to what this armor is, why it's being used in memes and who these Flork of Cows characters are putting "cope bricks" on everything? Let's explain.

What Is 'Explosive Reactive Armor (ERA)?'
Explosive reactive armor (ERA) first surfaced in 1949 in the Soviet Union when Ukrainian scientist Bogdan Vjacheslavovich Voitsekhovsky first thought of it. The armor looks like padded bricks and is supposed to be placed on the outside of a vehicle, most commonly a battle tank. When an ERA brick is hit with a missile, it self-implodes, launching a counter-explosion to destroy the enemy missile before it does damage to the tank.

What Are 'Explosive Reactive Armor' Memes?
Because the internet is such a big place, there have been weapon-related forums talking about explosive reactive armor since at least 2012. However, memes about ERA didn't actually surface until March 2023, roughly a year after the Russian invasion of Ukraine.
It all started when Poland gifted Ukraine some Leopard 2 tanks. They're apparently some really powerful, German-made death machines that don't really need ERA bricks to protect them. Regardless, Ukrainians were seen in photos putting bricks on the Leopard 2s, which was read by some as funny and totally unnecessary.
Thereafter, meme after meme surfaced on 4chan's /k/ board and Reddit's /r/NonCredibleDefense subreddit that added Ukrainian soldier-coded Flork of Cows characters who, to the dismay of many people, added ERA bricks to everything.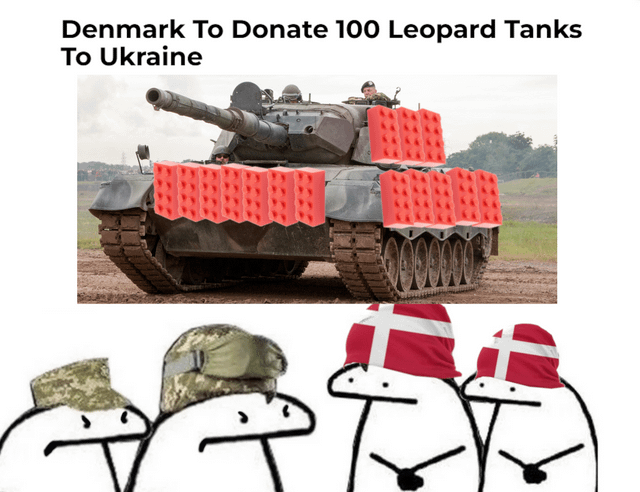 ---
For the full history of Explosive Reactive Armor, be sure to check out our entry on the meme here for even more information.