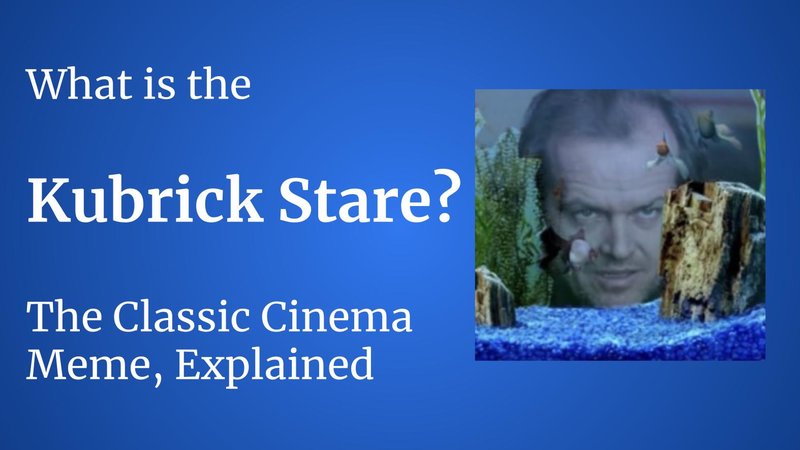 What Is The Kubrick Stare?
Some memes make an impression: glowering psychotically from the screen, radiating chaotic energy -- these posts can startle and scare. The internet has long been fascinated by characters like Patrick Bateman who show this energy, and by one specific film technique that narrates it: the Kubrick Stare.

What Is The Kubrick Stare?
The Kubrick Stare is a specific kind of shot that is often featured in the work of British director Stanley Kubrick. A character, pictured from the chest up, looks at the camera with their head tilted downwards. It's used to depict madness, insanity and derangement. For example, Jack Nicholson in The Shining does a Kubrick Stare right before he goes on his murderous rampage.

But this shot, well known to the nerds over at Film Twitter and the video essayists of Film YouTube, became a broader meme in February of 2023.
Where Did The Kubrick Stare Come From?
In 2019, Twitter user @DxGGEAUX posted a tweet about the Kubrick stare, alongside four examples. The last example, however, didn't come from the filmography of Stanley Kubrick, but from the 21st-century cinematic masterpiece It's Always Sunny In Philadelphia.

The tweet's text described, in a really over-academic way, the shot composition, which rapidly became a copypasta. Users began posting the text with their own takes on the Kubrick stare, often adding in a surprise fourth panel.

Why Do People Post Kubrick Stare Memes?
It seems that the butt of the joke here are pretentious film snobs who love Stanley Kubrick: by putting in a face doing the Kubrick stare that comes from a different, less prestigious kind of film, they poke fun at the sort of lofty clout-chasing discussions about film that characterize some online spaces.

But at the same time, like many memes such as Girl explaining, it also has a two-sidedness: it makes fun of an online community that just won't shut up, but it also can express pride in belonging to such a community. A little bit of self-deprecation becomes a way for film nerds to justify themselves.

After all, this is cinema. It's important stuff.
---
For the full history of the Kubrick stare, be sure to "check out our entry for even more information.