What Is The 'Man I'm So Hungry' Meme? The 'How Hungry' Horse Explained
A three-panel, meme comic has been trending as of late based on a horse saying "How Hungry…" when prompted by a man saying, "Man I'm So Hungry." The horse gives that man an aggressively rizz'd up stare, which over time, has proven to be an amazing, exploitable template.
Since its conception on Twitter, the "Man I'm So Hungry / How Hungry…" template has been re-edited and Photoshopped by meme creators who insert different characters and different questions into the speech bubbles within the image.
Curious about where this meme came from and what it means? Let's explain.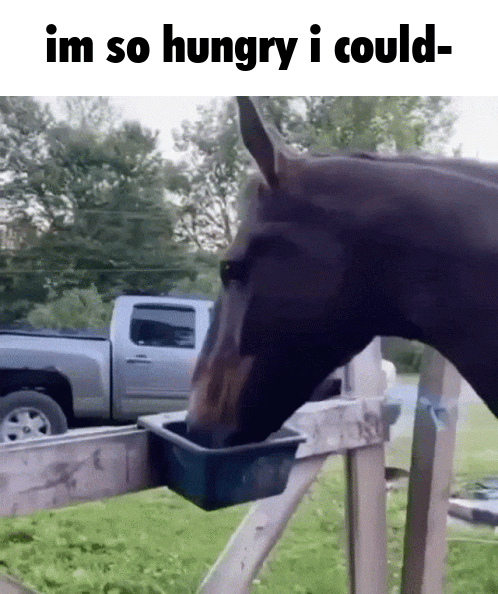 Where Did The Original 'Man I'm So Hungry / How Hungry…' Meme Come From?
On August 6th, 2020, Twitter user @freshErns posted a tweet that read:

me: wow I am so hungry
horse: *nervously* how hungry."
The joke was in reference to that age-old saying, "(I'm so hungry), I could eat a horse," playing the part of the horse who's nervous about getting eaten.
Two years later, in August 2022, another Twitter user posted an identical tweet that went way more viral than @freshErns'. The resurgence of the joke led to Twitter artist @porgiexd making a comic in which, instead of being nervous, the horse looked over-confident, handsome and totally nonchalant about the person being starved.

How Did 'Man I'm So Hungry / How Hungry…' Become A Meme?
Despite an August 2022 origin, the comic wasn't remixed and re-edited until January 2023. These early variations referenced Link from Zelda CD-i.


Going into the year, meme creators began replacing the word "hungry" with other adjectives and also began replacing the horse with other staring characters. Over time, the original meaning of the comic became muddled, to the delight of people that were in on the inside joke.




---
For the full history of Man I'm So Hungry / How Hungry, be sure to check out our entry on the meme here for even more information.