Top TV Memes: The Best Formats From 'Tiger King 2'
No one was really sure what to expect from season two of Tiger King. Since we had very little else to do during the height of last year's COVID-19 quarantine, the whole world watched the story of Joe Exotic, Carole Baskin, and a bunch of giant predatory cats in awe and confusion. The show's producers promised a great new addition to the documentary, but the overall reception of the show was rather negative. Many people believed it capitalized off the first season's fame without adding much more substance; however, no one was really surprised by this.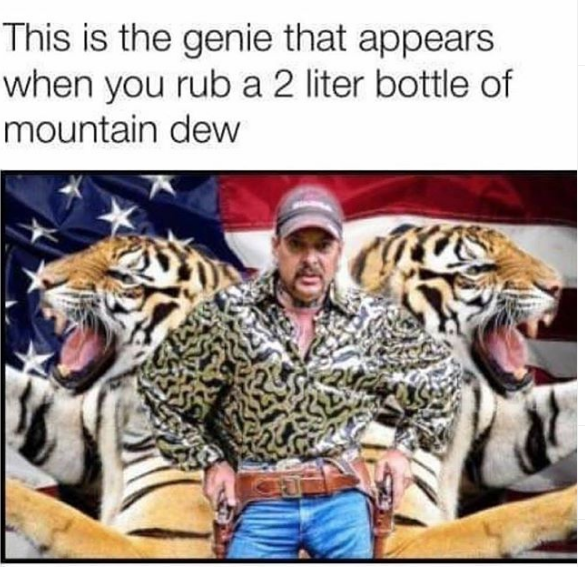 The fact that this is a documentary series means there's a whole world of disturbing facts being touched upon, and given some newsworthy developments in the lives of the people we're watching, season two has a disadvantage already in bringing us new information. For example, Joe Exotic is experiencing the world's karmic revenge as a current patient of severely aggressive prostate cancer. As a result, the new season has become a source and a victim of many jokes and memes. These are some of the episodes where they were born.

Most Popular Memes: Season 2, Episode 2: "The Carole Diaries"
The second episode of Tiger King 2 brought forth some rather unexpected information. While rumors had been circulating about Carole Baskin's missing former husband Don Lewis since the first installment of the series, everything we thought we knew or suspected was behind Don's disappearance completely changes in this episode. Most notably, we no longer see Don as a victim in any way upon the revelation that he allegedly ran a brothel of underage girls in Costa Rica. Now, the general consensus is that if Carole Baskin did kill Don, that's just fine. We don't care if he was fed to the cats.

Weirdly enough, the season that somehow painted Carole in a more positive light is the season she has decided to sue over. That lawsuit is currently ongoing, and at the same time, there are more rumors now then ever about Don being sighted alive in Costa Rica. This episode changes so much about our perception of Carole, her husband, and this show's inclination towards drama, since this is the first we're hearing of all of this. Now, there are thousands of memes out there sympathizing with Baskin or simply hoping that if Don is still out there, he's miserable.

Most Meme Potential: Season 2, Episode 5: "Stark Raving Mad"
The last episode of Tiger King 2 drops a really weird bombshell about Jeff Lowe's desire to have Joe Exotic decapitated in a murder plot just like the one that led to Joe's imprisonment. Though it's not really clear why copying the exact cause of death makes any sense, especially when it would only arouse a lot of suspicion, this is the information we have to process, and we're not sure how to do so. The story of Jeff Lowe begins in the episode prior, as well as some snippets from the last season, but this episode continues to make us despise the man to the point where we make memes and internet jokes about his bandana. To be clear, no one is seeking justice for Joe exotic by hating Lowe. He's just sounds like a generally unpleasant person, and I'm willing to bet that he smells like a sweat-drenched bait and tackle shop.

As Lowe was being interviewed for this show, Netflix took a still image of him and his signature bandana/hat masterpiece. Though the headshot isn't particularly notable, it has become a minor meme format. It typically follows the structure of "If (blank) were a person…" followed by the picture. It works as an effective insult and reference for anyone who's seen the second season, and while there aren't quite thousands of these memes floating around yet, there easily could be.

---
Meme Insider is a Know Your Meme publication and the world's leading internet culture magazine. Find out how to get your first print copy for free, and check out the Meme Insider website for more info.