This submission is currently being researched & evaluated!
You can help confirm this entry by contributing facts, media, and other evidence of notability and mutation.
About
Joe Exotic is the professional name of Joe Shriebvogel, aka Joseph Maldonado-Passage, a controversial former zookeeper known for a variety of crimes, publicity stunts and a failed gubernatorial campaign. His personality and online presence garnered him a cult following in the 2010s. Following the release of the true-crime podcast Over My Dead Boddy and the Netflix docuseries Tiger King, Exotic inspired numerous memes and online discussion.
History
In 1999, Joe Exotic opened his first zoo, the Garold Wayne Exotic Animal Memorial Park, following his brother's death in 1997. The following year, he rebranded the zoo to focus on exotic cats, particularly tigers, which he began acquiring in 2000.[1]
Web Series
In 2012, he launched a YouTube channel and a web series on www.JoeExoticTV.com. On November 21st, 2012, he published the first video on YouTube, "Stars of Nat Geo Hitting and pulling tails tiger cubs." The post received more than 1,100 views in less than eight years (shown below).
On April 4th, 2013, JoeExoticTV released the video "Bonedigger the lions playing with his dogs." The post received more than 22 million views in less than seven years (shown below, left).
On November 26th, 2013, the channel published the video "Lion Attacks Man With Love." The post received more than 10 million views in less than seven years (shown below, right).
Music Career
In the 2010s, Exotic began releasing a series of music videos and albums, mostly about tigers. On June 11th, 2013, he released the music video for "I Saw a Tiger," which received more than 576,000 views in less than seven years (shown below).
On March 23rd, 2020, Vanity Fair[4] reported on the men who sang the song's Joe Exotic claimed to perform. They wrote:
After some light internet research, Vanity Fair concluded that the mystery musicians responsible for Joe's tracks are Vince Johnson and vocalist Danny Clinton, both of whom are listed in Tiger King's credits. But Joe guarded this "secret" fiercely.
Vince Johnson compared the situation to the infamous lip-syncing scandal surrounding pop act Milli Vanilli. In an email to Vanity Fair, he wrote:
I had no idea he was going to Milli Vanilli the songs. It was a couple of months and two or three songs [into the collaboration] when I was on YouTube one night and just happened to look up Joe Exotic. And there he was, lip-syncing and acting like the ghost of Elvis [in these music videos]. I called him up, I was hot…And he bamboozled me about his reality show--that it was coming soon and he would make everything right as rain. I just wanted the proper credit.
Over My Dead Body
In 2019, Wonderly launched the second season of the Over My Dead Body podcast, which reported on Exotic's involvement in the murder-for-hire plot of Carole Baskin.[3]
Tiger King
On March 20th, 2020, Netflix launched the series Tiger King: Murder, Mayhem and Madness. The series followed Exotic's operation of the zoo and, later, the murder-for-hire plot that led to his arrest and conviction.
Reputation
Joe Exotic is known for o personality and his abusive behavior. Mel Magazine[2] described him as "a big-cat-owning, gun-loving, polyamorous gay man who rocks a mullet, horseshoe mustache and shiny, two-toned leopard-print dress shirts. But Joe Exotic is not your average anything."
Criticism
Conviction
In 2018, Joe Exotic for attempting to pay for the murder of rival exotic cat enthusiast Carole Baskin, the owner of the Big cat Rescue.
On January 22nd, 2020, Joe Exotic was sentenced to 22 years in federal prison after being convicted on two counts of murder-for-hire, trading illegally acquired animals and nine violations of the endangered species act.[1]
Various Memes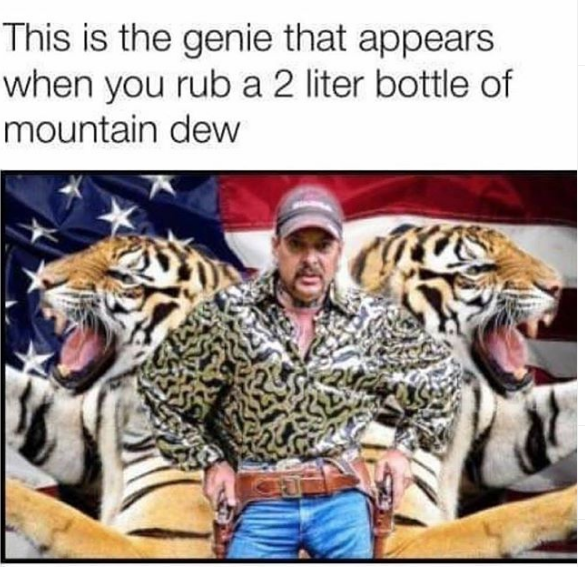 Search Interest
External References