You guys know the Dawson Cry gif: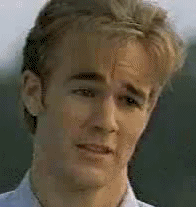 Dawson (James Van Der Beek) knows about it too, and made jamesvandermemes.com, and this video with Funny Or Die.
http://www.funnyordie.com/videos/2fbe5df820/vandermemes
The database could probably use an entry regarding the original Dawson Cry leading up to the new ones.
The thing that I find interesting about this is that plenty of "web celebs" or people became famous because of their meme have gotten together with amplifiers like Funny Or Die to produce and distribute their content, feeding back into the meme. Antoine Dodsen, HungryBear, etc.
But it's sort of rare to see tv and film actors doing the same.
Last edited Jan 04, 2011 at 02:39PM EST