Andrew Tate Anime Girl Selfies
This submission is currently being researched & evaluated!
You can help confirm this entry by contributing facts, media, and other evidence of notability and mutation.
About
Andrew Tate Anime Girl Selfies are a series of photoshopped images of Andrew Tate posing next to anime waifus, posted to Twitter by Tate himself. The earliest of these images was posted in September 2017 after Tate made a controversial tweet criticizing anime. In May 2023, Tate began regularly posting images like this, consistently becoming the subject of reactions online.
Origin
On September 26th, 2017, Andrew Tate posted to his Twitter[1] account @cobratate, "If you are over 15 and like cartoons you are a loser. Anime dragon ball Z etc. No excuse. Plus ANY woman loses respect for you. Grow up." In a comment under the tweet, he adds, "Specifically anime. South Park was funny. Simpsons is shit but popular whatever. Anime is for losers."
The tweet garnered significant controversy and reactions from anime watchers online. On September 27th, Tate responded to the controversy on Twitter[2] by tweeting a photoshop of himself with a dakimakura and an anime girl on his shoulder (shown below).

On May 16th, 2023, Tate tweeted[3] an anime meme where a boy tells a girl "quiet, kitten," garnering over 83,000 likes in 10 days (shown below, left). On May 17th, he tweeted[4] another anime meme, garnering over 38,000 likes in nine days (shown below, right).


On May 17th, Tate posted his first photoshopped selfie with an anime girl to Twitter[5] since the 2017 post, writing, "GM." The photo shows Tate and the waifu next to his car and garnered over 132,000 likes in a week (shown below).

Spread
Tate continued to post photographs with anime girls over the following days, often gaining considerable attention. On May 18th, 2023, he posted a selfie to Twitter[6] that gained over 92,000 likes in a week (shown below, left). On May 19th, he posted a video to Twitter[7] dancing with an anime girl and his brother Tristan Tate, garnering over 62,000 likes. On May 20th, he posted a new photo to Twitter[8] that gained over 116,000 views in six days (shown below, right).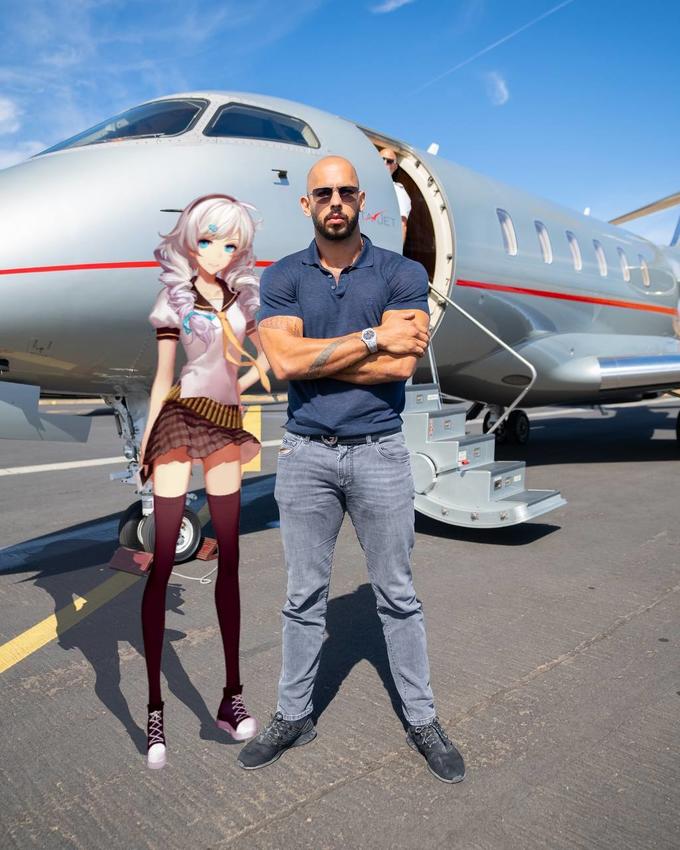 Between May 23rd and the 25th, Tate posted three more photoshops to Twitter[9][10][11] of himself with anime girls, garnering over 121,000, 66,000 and 39,800 likes respectively by May 26th (shown below).



On May 26th, a Redditor posted to /r/OutOfTheLoop[12] asking about the selfies, the top reply reading:
Say what you want about Andrew Tate (in no way do I agree with his actual beliefs or at the very least what he shills out online), but he's a weirdly smart promoter of his businesses. He knows his audience and current trends online enough to know how to keep relevant.

His main "business" is the online course Hustler's University, which targets young lonely men. That demographic coincides with some anime fans.

As for why his fan boys don't say anything about it, they really don't like criticizing Tate. Never-ending that he's already dissed anime fans before; to them, Tate is always right, no questions asked.

Some others will probably attribute his 180 from shitting on anime to shitposting anime as some weird "character development."

And even if he does get some push-back, the rage mob still gives him attention, so to him, it's a win.
Online Reactions
Tate's anime girl photos became the subject of online reactions in May 2023 as he continued to post them. On May 18th, 2023, YouTuber[13] SomeOrdinaryGamers posted a video about the posts, garnering over 640,000 views in a week (shown below, left). On May 21st, YouTuber[14] Belu-Grandpa posted a meme about the posts, garnering over 17,000 views in five days (shown below, right).
Search Interest
External References