About
Big Toblerone refers to references and jokes based on a scene from the Netflix anime series Neo Yokio, in which the protagonist, Kaz Kaan, courts a woman by gifting her an oversized Toblerone candy bar.
Origin
On September 7th, 2017, all six episodes of the first season of Neo Yokio premiered on Netflix. In episode two, the character Kaz (voiced by Jaden Smith) decides to bring Helena (voiced by Tavi Gevinson) a big Toblerone in hopes that she'll go to a ball with him (clip below).
Precursor
The big Toblerone is a real product sold by Mondelez International.[1] It weights approximately 9.9 lbs and is 2.62 ft long. On September 4th, 2010, at the Toblerone Schoggifest 2010, the world's largest Toblerone was unveiled, weighing approximately 224lbs.[2]
Spread
Within two weeks of the film's release, people began making jokes about the big Toblerone, particularly the line "You don't deserve a big Toberlone." On September 22nd, Twitter [3] user @Robert88UK posted a series of screenshots from the show, featuring Kaz deciding to bring Helena the Toblerone and finally, him deciding that she does not deserve it. They captioned the post (shown below, left) "A tragedy in 4 parts #NeoYokio," garnering more than 23,000 retweets and 47,000 likes in two weeks.
Later that day, Twitter[4] user @Suicidal_Smoker posted a picture of the big Toblerone with the caption "rt if you deserve this toblerone." The post (shown below, right) received more than 17,000 retweets and 17,000 likes in two weeks.


Several media outlets covered the popularity of the meme, including Polygon[5] and BuzzFeed. [6]
Big Toblerone Generator
On October 3rd, 2017, Neo Yokio-creator Ezra Koenig tweeted[7] a link to the official Big Toblerone meme generator, www.youdontdeservethis.com.[8] The generator allows users to input one or two likes of custom text to be placed on the big Toblerone. That day, Twitter[9] published a Moments page about the generator.

Various Examples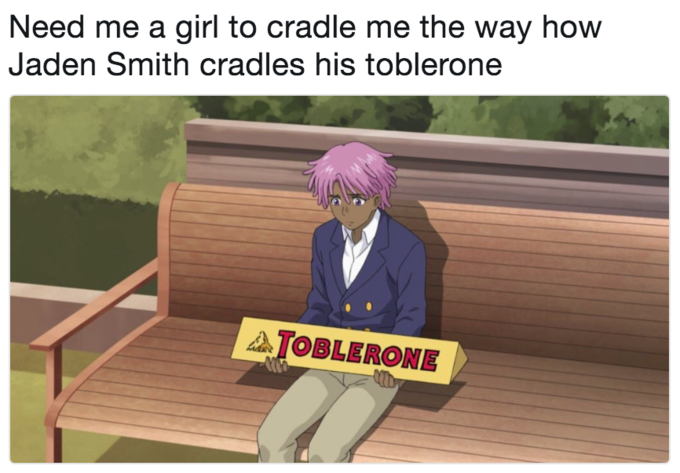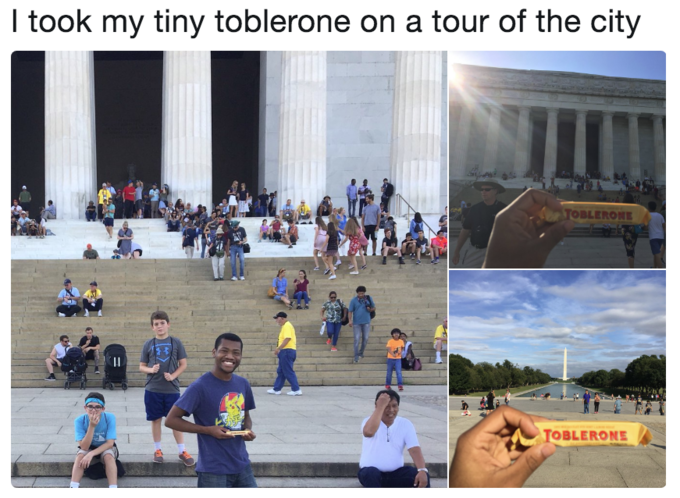 Search Interest
External References