About
Chris Hansen Cat is an advice animal image macro series featuring a photo of a cat positioned as if it is seated at a table accompanied by feline-related puns and LOLcat jokes. The macros often begin with the phrase "Why don't you have a seat" popularized by Chris Hansen, the former host of reality TV series To Catch a Predator.
Origin
On March 4th, 2012, Redditor BrettBr0wn submitted a post titled "Chillin at the kitchen counter"[8] with a photo of a cat posed as if it were sitting like a human. In the thread, several photoshopped variations of the image were posted.



The same day, a post in the /r/funny[7] subreddit titled "it was you…. it was you this entire time!" included an animated GIF of a cat playing with a feather (shown left below). The following day, Redditor DarkCoyote submitted a post titled "Introducing, Chris Hansen Cat"[2] with an image macro (shown right below) captioned with "Why don't you have a seat / how long have you controlled the feather?"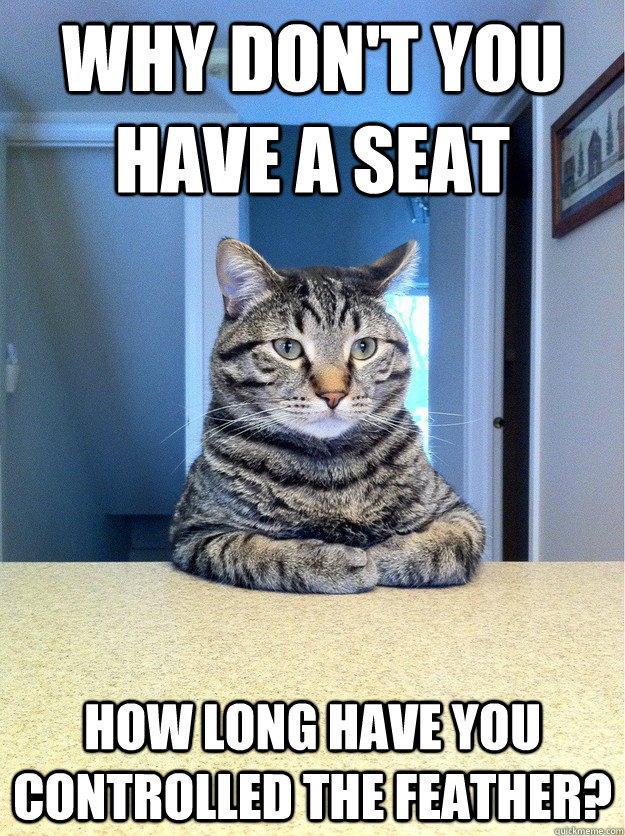 Spread
On March 5th, BuzzFeed[5] posted the template image for users to add their own captions and I Can Has Cheezburger[3] posted a compilation of notable derivatives. The same day, MSNBC[6] writer Helen Popkin posted the original feather image macro in a technology news round-up post. On March 6th, the web culture blog UpRoxx[4] posted an article outlining the meme's origins on Reddit and included a slideshow of examples of the series. As of March 9th, 2012, the Quickmeme[1] page has accumulated over 800 submissions.
Notable Examples






Search Interest
External References
Recent Videos
There are no videos currently available.