About
Cyberpunk 2077 Penis 2 refers to a series of memes about Cyberpunk 2077's genital customization options where players can select between Penis 1 (uncircumcised) or Penis 2 (circumcised) during character creation. Due to the news revolved around the game's ability to customize genitals and the sheer humor of two penis options, various memes referencing Penis 2 circulated online across multiple platforms in mid-December 2020 following Cyberpunk 2077's release.
Origin
On May 6th, 2020, The Entertainment Software Rating Board (ESRB)[1] gave Cyberpunk 2077 a "Mature" rating due to players having the ability to customize genitals. That same day, IGN released the video "Cyberpunk 2077 Will Let You Customize Your Genitals – IGN Now" on YouTube[2] (shown below), accumulating over 505,700 views and 14,000 likes in two days while also spawning memes revolved around the topic.
In early December 2020 upon the game being released to reviewers and streamers, the earliest examples of memes making reference to "Penis 2" as a customization option began appearing online. One such example was tweeted by Twitter[3] user StormYorha on December 5th, with an image of the character creation screen and the caption "huge congratulations to cyberpunk 2077 for creating penis 2." The tweet (seen below) received over 30,400 likes, 2,800 retweets and 452 replies in six days.

Spread
On December 9th, 2020, Redditor GangstaZiggy posted a version of the Are Ya Winning Son? meme to the /r/gaming[4] subreddit referencing Penis 2, which received over 6,400 upvotes, 153 comments and several Reddit Awards in 21 hours (seen below, left). That same day, the Facebook[5] page Shitposting 2006 posted another example to their page, receiving over 810 likes and 85 shares in 21 hours (seen below, right).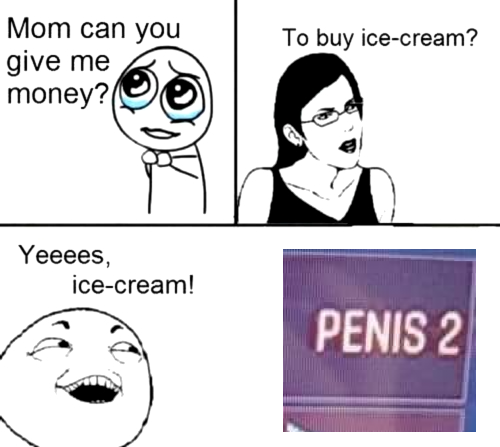 On December 10th, Steam[6] user Jerreh made a post to the Cyberpunk 2077 forums on the site that went viral. In the post, Jerreh referenced the options in a satirical fashion, receiving over 389 comments in 36 hours. Shortly after, Twitter[7] user bambooney tweeted the forum post, receiving over 110,900 likes and 10,400 retweets in 36 hours (shown below).

On December 10th, Twitter[8] user Cudalla tweeted a reference to "Penis 1" and "Penis 2" claiming they couldn't decide between the options. The tweet (seen below) received over 2,100 likes and 45 retweets in 34 hours.

On December 10th, gaming news website Video Game Choo Choo[9] published a satirical article titled "How To Unlock Penis 2 In Cyberpunk 2077," which described the customization within the game, poking fun at the trend.
Various Examples



Search Interest
External References