About
"Damn Daniel" is a catchphrase that stems from a Twitter video montage featuring a voiceover of a teenager complimenting his friend Daniel on his fashionable attire on a number of different occasions. Due to the narrator's particular obsession with Daniel's sneaker shoes, the video has drawn comparisons to the 2015 viral video sensation "What Are Those?!"
Origin
On February 15th, 2016, Twitter user joshholzz, whose real name is Josh Holz, tweeted the original "Damn Daniel" video.[1] It received more than 16,000 likes in the first 48 hours, according to Mashable;[2] four days after the initial tweet it had 121,938 retweets and 148,382 likes. In it. the narrator can be repeatedly heard praising fellow student Daniel Lara's look, including his "White Vans." According to the Twitter account, both boys attend Riverside Poly High School in Riverside, California.[3]
Damn Daniel pic.twitter.com/Va10hmpePO

— josh (@josholzz) February 16, 2016
Spread
The spread was initially spurred by other students at Riverside Poly High School, who retweeted the video frequently. On February 16th, the tweet was retweeted by several fake WorldStarHipHop Twitter accounts, which are generally operated as third-party re-uploaders; these accounts, which included WORLDSTARC0MEDY[4] and WORIDSTARHIPH0P,[5] helped the video receive tens of thousands of more views and retweets, increasing the spread of the original video.
On February 17th, the account Four_Pins created the Damn Daniel starter pack, which included White Vans; the tweet received over 19,000 retweets and 23,000 likes.[6] On February 21st, an eBay seller named m_shopping_loft created a listing for a pair of white Vans attributed to Daniel Lara;[14] while they were not the real shoes, they were quickly bid up to more than $400,000 on eBay; several copycat listings also received high bids.[15] Among many other media mentions, the video's catchphrases were used in the title of an article about Justin Bieber, who was also seen wearing white vans.

The video's popularity caused #DamnDaniel to initially trend briefly on Twitter, especially on the West Coast; however, the hashtag consistently began trending on Vine through February 24th, where it acquired many parodies from popular Viners like King Bach.[16] When Daniel Lara and Josh Holz appeared on the Ellen Degeneres show on February 23rd, Degeneres estimated that by that point, the original video had been seen almost 45 million times through various sources.
Brand Engagement
On February 18th, Vans tweeted about the video, creating a Twitter poll with two options: "Back At It" and "With the White Vans;" as of February 19th, with 5 days to go, the poll had received almost 50,000 votes.[7] Clorox[8] and Axe[9] also tweeted about the video, making jokes about the whiteness of the Vans and Daniel's physical appearance, respectively. In addition, both Axe Body Spray and Denny's Restaurants created popular tweets based on the meme.[17] On February 23rd, Daniel Lara tweeted that Vans had invited him to star in a commercial.[18]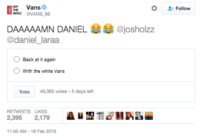 Swatting
On February 23rd, 2016, ABC7 Los Angeles reported that the owner of the Twitter account which had originally posted the Damn Daniel tweet, @josholzz, had been swatted. According to the report, a false 911 call had been made reporting that someone at a residence in Riverside, California had shot their mother with an AK-47. The police arrived to find out that the call was fake.[12]
DURR PLANT
DURR PLANT is a meme unintentionally made by YouTube user I Hate Everything to mock and compare the equivalent of the Damn Daniel meme and has later been edited and remixed in other media platforms.
Various Examples
Search Interest
External References