About
Justin Bieber is a teen Canadian pop musician, singer, songwriter, and actor who rose to fame after several videos of his musical performances were uploaded to YouTube. He is often the subject of conversations online from both his critics, and his rabid supporters, known as "Beliebers".
Online History
Justin Bieber was born in London, Ontario on March 1st, 1994. At the age of 12, Bieber's mother started uploading videos of him singing pop songs onto her "kidrauhl" YouTube[12] account on January 15th, 2007.
According to Reuters[1], this was the pivotal moment when Bieber's popularity began to rise. In 2008, when he was 13 years old, American talent manager Scooter Braun contacted him after seeing one of Bieber's videos on YouTube, and offered him a record deal. Beiber flew out to Atlanta, Georgia, to record demo tapes, and met the R&B artist Usher.


His first album, "My World", was released on September 17th, 2009. It sold 137,000 albums in its first week, and peaked at number five on the U.S. Billboard 200[2]. His next album, "My World 2.0", released on March 23 2010, gained number 1 status on the U.S. Billboard 200, making him the first artist since the Beatles to debut at No. 1, and proceed to sell more the following week[3].
Online Presence
On Social Networks
On Facebook, anti-Bieber fan pages and groups have surfaced since the beginning of his career, and still exist. As of July 2011, "I Hate Justin Bieber"[16] has 1,856,257 likes, and "Justin Bieber SUCKS !!"[17] has 50,618 likes. These numbers are much smaller than Justin Bieber's "Official fan page"[18], which has over 37 million likes as of November 2011. On Twitter, Bieber's official page[19] has amassed nearly 14,000,000 followers as of November 1st, 2011. Other Bieber fan Twitter accounts[20] have followers ranging in the hundreds of thousands.
On YouTube
On YouTube, his videos make up several of the most viewed of all time, with 4 of his music videos in the top 50 viewed, including his music video for "Baby", which is the most viewed video of all time as of July 2011.[13] The music video also has a like to dislike ratio of about .488, showing that there are around twice as many dislikes for every like.[5] In fact, some of Justin Bieber's music videos made the "Top 10 Most Disliked Youtube Videos", only seconded by Rebecca Black's Friday. Even in videos not concerning Bieber, highly critical comments are posted about him. Multiple parody videos of Justin Bieber and his songs have been uploaded to YouTube.
YouTube Views
On November 1st, 2011, Justin Bieber's YouTube Channel JustinBieberVEVO reached a new milestone of 2 billion total views. According to the TIME Magazine[30], the new record views were boosted by the teen idol singer's latest music video release for the Christmas single "Mistletoe," which has been viewed more than 28 million views since its debut on October 18th, 2011. The previous viewcount milestone was established by Lady Gaga, who became the first artist to gain one billion views in October 2010.
Free Bieber
On October 19th, 2011, a campaign called "Free Bieber" was launched that targeted the proposed Bill S.978 that recommends unauthorized streaming of copyrighting works should be punished with a maximum prison sentence of 5 years. The website FreeBieber.org[25] explains that the bill could technically send Justin Bieber to prison for videos he had previously uploaded to YouTube:
A new bill in Congress makes posting a video containing any copyrighted work a felony-- with up to 5 years in prison. But wait… didn't Justin Bieber get famous by posting YouTube videos of himself singing copyrighted R&B songs? Yep. If this bill passes, he could get 5 years in jail.
The campaign was subsequently covered on BoingBoing[26], Torrent Freak[27], and TechDirt[28] the same day.

Reputation
When Bieber was young, he was criticized for his youthful appearance, relatively high pitched voice, overabundance of heart throb songs, and the quality of his music. His manner of speech has also come under criticism, being called a dialect "more suited to rappers"[4]. On the web, Bieber is frequently targeted by internet trolls, most of whom comment either on his sexuality, feminine hair style and voice, and his undeserved popularity.
Fandom: The Beliebers
A "Belieber" is an extreme fan of Justin Bieber. According to Urban Dictionary[11], the name is a fusion between "Bieber" and "believer". From Wikipedia[22]:
Bieber's popularity among pre-teen and teenage girls, including his wide-ranging fan base colloquially known as "Beliebers", has occasionally led to some harsh criticism by his fans of other people, including personal attacks, death threats, and slanderous remarks. The website Belieber.com[21] is a blog dedicated to Justin Bieber related news.

Anti-Fandom
4chan has played an important part in the spread of attacks against Justin Bieber online. On June 13, 2010, a campaign was launched by the Anonymous of 4chan to get the phrase "Justin Bieber Syphilis" the number one Google Trend. According to Gawker[6], it became the number one trending search before 2:00 A.M. the following day.

The contest for Justin Bieber's "My World Tour"[15], that asked for fans to vote on a country that Bieber should visit for his tour, was launched in early summer 2010. Anonymous used this as an opportunity to vote on sending Bieber to North Korea, a country with limited internet access, and strict borders.[7]
Censoring Bieber
Many countermeasures have been taken to eliminate the over-saturation of Justin Bieber-related search results online. On May 14th, 2010, Twitter released a new algorithm for their Trending Topics feature, commonly called "Bye, bye Bieber". The Algorithm limits trending topics to "immediately popular" and "most breaking", which prevents any one topic from dominating Twitter for too long. Twitter noted that no topic is blocked from trending.[8]

On May 17, 2010, Greg Leuch from the Free Art & Technology launched a Firefox add-on called "Shaved Bieber", which removes any and all mention of Justin Bieber by blacking out any word mentions and censoring any pictures of him[9].
Flying Water Bottle Incident
In December 2009, at a Sacramento radio event, Justin Bieber was hit onstage with what appears to be an empty water bottle thrown by a fan. It was later revealed to be a bag of Sour Patch Kids wrapped in a Justin Bieber T-shirt.[10] It is still unclear as to wether the person in the audience was a fan, or a hater in disguise.
C.S.I Appearance
Justin Bieber appeared on two episodes of CSI: Crime Scene Investigation[24] as Jason McCann[23]. Jason is the brother of Alex McCann, who bombed a police's funeral in the beginning of the episode Shock Waves. Alex then later tried to bomb the whole LVPD. After Alex got shot dead during an attempted escape, Jason went on to bomb the police, and got shot and killed at the end of another episode, Targets of Obsession.
After the episode was aired, numerous clips of the show went on the web, most notably the part of which Justin Bieber was shot and killed.

Paternity Lawsuit
On November 1st, 2011, a number of celebrity gossip blogs and news sites including Star Magazine and TMZ reported that a 20-year-old woman Mariah Yeater filed a paternity lawsuit against Bieber, claiming that they had sex backstage at one of his concerts in 2010. The singer's legal team has dismissed Yeater's claim as false allegation.
#BaldForBieber
On October 23rd, 2012, rumors began circulating that Justin Bieber had been diagnosed with cancer and that fans were shaving their heads to show support for the pop star. That same day, YouTuber Advancedhackss uploaded a video titled "Justin Bieber has cancer, support him! #baldforbieber," which featured a slideshow of people who purportedly shaved their heads in support of Bieber (shown below, left). Later that day, YouTuber Lexie Turner uploaded a video urging viewers to support Bieber by shaving their heads (shown below, right).
On October 24th, the site BaldForBieber[33] was launched to feature photographs of people with shaved heads holding signs with the hashtag "#BaldForBieber." On the same day, YouTuber BaldForBieber uploaded a video featuring footage of mothers shaving their heads in support of Bieber during a radio show broadcast (shown below).
On October 25th, the news site Gather[32] published a post titled "Does Justin Bieber Have Cancer?", which speculated that the rumor appeared to be a hoax. On October 26th, the technology news blog TechCrunch[31]published an article titled "Bald Beliebers Remind Us: Just Because You Read it on Twitter, Doesn't Make it True," citing a faked Entertainment Tonight tweet as the origin of the rumor (shown below).

The same day, the hoax was reported by the Internet news blogs BoingBoing,[34] Blame it on the Voices[35] and The Daily Dot.[36] Also on October 26th, Redditor 5K337Lord submitted a post titled "Oh god 4chan I love you,"[37] which included two photographs of women who had shaved their heads (shown below). Redditor ErroneousDylan replied to the post, claiming that the hoax started with fake Twitter accounts, editing Justin Bieber's Wikipedia entry and spamming chat rooms.

#CuttingForBieber
#CuttingForBieber (also known as #Cut4Bieber) is an online hoax and Twitter hashtag campaign launched by members of 4chan in trying to spread a rumor that fans of Justin Bieber are cutting themselves in response to the leaked photographs of the singer allegedly smoking marijuana. The hoax involved creating numerous fake Twitter accounts and spreading pictures of supposedly self-inflicted scars with the hashtag, similar to misinformation techniques used in the #BaldForBieber campaign.
Jail4Bieber
On March 12th, 2013, yet another anti-Bieber hashtag #jail4bieber began circulating on Twitter, paired with fabricated rumors that Bieber had molested a 13-year-old girl in England before fleeing the country to avoid prosecution. The hashtag was quickly revealed to be part of a smear campaign led by 4chan users who posted instructions on spreading the ruse on Twitter, Facebook and YouTube (shown below).

According to the Twitter analytics site Topsy,[39] there were over 900 mentions of "jail4bieber" on March 12th. The same day, a Facebook[40] page titled "Jail4Bieber" was launched, which featured photographs of young girls holding signs accusing Bieber of molesting them (shown below). Within 24 hours, the page received over 900 likes. Also on March 12th, The Daily Dot[38] reported on the operation, comparing it to the previous campaigns BaldForBieber and Cut4Bieber.

Anne Frank House Commentary
While touring in Amsterdam on April 12th, Justin Bieber paid a visit to the Anne Frank House, a museum dedicated to the life of the World War II diarist. The next morning, the museum's Facebook page posted a status update noting [41] that Bieber had written in the guest book that he had hoped Frank would have been a Belieber. The Facebook post was shared more than 3,200 times by Monday morning.

On April 13th, Anne Frank was mentioned more than 379,000 times on Twitter[42], up 861% from the previous day's 44,000 tweets. Commenters on both Twitter and Facebook criticized Bieber for being self-absorbed, with the Huffington Post[43], TIME[44] and CNN[45] each compiling reaction comments to his message. On the 14th, BBC's Amsterdam correspondent Anna Holligan tweeted[46] a statement from the press office of Anne Frank House saying that although the comment was not very sensible, they thought Bieber did not have ill intentions when he wrote it. On the following day, the Anne Frank House spokeswoman Annemarie Bekker stated they were "a bit overwhelmed" by the negative response to Bieber's comment, emphasizing that he is a 19-year-old boy who made the effort to come to the museum.[47] Bekker also tweeted that the museum staff hoped his visit would inspire his fans to learn about Anne Frank's story.
#AnneFrankHouse: it's very positive that #JustinBieber took time & effort to visit JB was very interested; hope visit will inspire his fans!

— Anne Frank House (@annefrankhouse) April 15, 2013
Mystery Girl Films Bieber in Bed
On November 6th, 2013, YouTuber Filipe Golay uploaded a video of a woman waving Bieber goodbye while he sleeps in a hotel room bed (shown below). Within the first 48 hours, the video gathered over 17.3 million views and 34,000 comments. The video surfaced shortly after several vandalism allegations began circulating during the pop star's "Believe" tour in South America, including reports that he spray painted graffiti on a wall in Brazil.[48]
Later that day, the celebrity news blog Perez Hilton[50] identified the woman in the video as 26-year-old Brazilian bodybuilder Tatiana Neves Barbosa[49] (shown below).



On November 7th, Redditor olivertate submitted the video to the /r/videos[48] subreddit, claiming that the woman was a Brazilian prostitute based on rumors that Bieber had visited a brothel earlier that week.[51] In the following 24 hours, the post garnered more than 33,000 up votes and 5,600 comments. On the same day, YouTubers iAMLanceyPants and PortalofAwesome2 uploaded parody videos featuring close ups of men edited into the end of the video (shown below).
On November 8th, E! Online[53] published an article reporting that Barbosa had sent the video to a friend and was upset that it was posted online. The article also noted that sources claimed the video was recorded after the pop star threw a house party outside of Rio.
Arrest in Miami Beach
On January 23rd, 2014, celebrity news site TMZ broke the news that Justin Bieber was arrested and taken into custody by the Miami Beach Police Department on charges of driving under the influence, driving with an expired license, drag-racing and resisting arrest.

According to the arrest report first obtained by TMZ, Bieber was pulled over in his yellow Lamborghini by Officer Steve Cosner at 4:13 a.m. in the morning after his entourage reportedly blockaded an intersection for a drag racing strip in downtown Miami Beach. After failing his field sobriety test, Bieber reportedly lashed back at the officer with expletives and admitted to having THC and prescription drugs in his system.
I CAUGHT UP TO THE YELLOW LAMBORGINI AND INITIATED A TRAFFIC STOP AT THE 300 BLK OF 41ST. I APPROACHED THE VEHICLE ON THE DRIVER SIDE. I ASKED THE DRIVER TO PLACE THE VEHICLE IN PARK. AT THIS TIME, THE DRIVER. BEGAN TO STATE:"WHY DID YOU STOP ME".

I EXPLAINED TO THE DRIVER THAT HE WAS STOPPED BECAUSE HE WAS DRAG RACING WITH THE OTHER LAMBORGINI. I IMMEDIATELY SMELLED AN ODOR OF ALCOHOL EMINATING FROM THE DRIVERS BREATH AND BLOODSHOT EYES. THE DRIVER HAD SLOW DELIBERATE MOVEMENTS AND A STUPER LOOK ON HIS FACE. THESE ARE ALL INDICATORS OF AN IMPAIRED DRIVER. I ASKED THE DRIVER TO EXIT THE VEHICLE TO CONTINUE MY INVESTIGATION OF A POSSIBLE IMPAIRED DRIVER. THE DRIVER STATED:" WHY THE FUCK ARE YOU DOING THIS"?
FINALLY, THE DRIVER EXITED THE VEHICLE AS HE KEPT GOING INTO HIS PANTS POCKETS. I ASKED THE DRIVER TO NOT GO INTO HIS POCKETS FOR MY SAFETY AND HIS. FEARING THAT THE DRIVER MIGHT HAVE A WEAPON OR CONTRABAND, I ASKED THE DRIVER TO PLACE HIS HANDS ON HIS VEHICLE IN ORDER TO FACILITATE A CURSORY PATDOWN FOR WEAPONS. THE DRIVER STATED:"WHAT THE FUCK DID I DO, WHY DID YOU STOP ME."
AGAIN I ASKED THE DRIVER TO PLACE HIS HANDS ON HIS VEHICLE. THE DRIVER COMPLIED BUT TOOK HIS HANDS OFF THE VEHICLE SOON AFTER AND TURNED AROUND TO FACE ME. AGAIN I ASKED THE DRIVER TO NOT TAKE HIS HANDS OFF HIS CAR AND TO LOOK FORWARD BECAUSE I WAS GOING TO PERFORM A CURSORY PATDOWN. THE DRIVER STATED:"I AINT GOT NO FUCKING WEAPONS, WHY DO YOU HAVE TO SEARCH ME,WHAT THE FUCK IS THIS ABOUT?"
I ADVISED THE DRIVER THAT IF HE CONTINUED TO TAKE HIS HANDS OFF HIS VEHICLE, HE WOULD BE SUBJECT TO ARREST. THE DRIVER AGAIN TURNED AROUND TO FACE ME. AT THIS TIME, I GRABBED HIS RIGHT HAND AND STATED TO HIM THAT HE WAS UNDER ARREST. THE DRIVER BEGAN TO RESIST ME BY PULLING HIS RIGHT ARM AWAY AS HE STATED:"WHAT THE FUCK ARE YOU DOING".
I ADVISED THE DRIVER NOT TO RESIST AND WITH THE ASSISTANCE OF OFC. MOLINA ID# 064 AND OFC. SOCARRAS#501 , WE PLACED HIM INTO CUSTODY WITH NO FURTHER INCIDENT. THE DEF.WAS TRANSPORTED TO THE MIAMI BEACH POLICE DEPARTMENT BY OFFICER DIONNE. WHILE EN ROUTE TO THE STATION, DEF INQUIRED AS TO WHY HE'D BEEN ARRESTED. OFFICER DIONNE ADVISED HIM THAT HE BELIEVED HE WAS IMPAIRED. DEF ADVISED THAT HE WAS NOT DRUNK, AND THAT HE WAS COMING BACK FROM RECORDING MUSIC AT A STUDIO.
Later that same morning, TMZ's report was immediately picked up by the Miami Herald, Miami New Times and other local news outlets, as well as virtually all celebrity gossip blogs and news sites, including Gawker, E! Online and Perez Hilton, among many others. Reflecting the online popularity of the pop star, the news of his arrest quickly took over Twitter as the Beliebers began reacting with mixed feelings, some of whom expressed disappointment at his recent string of legal troubles while others voiced support. By 10 a.m. (ET), the buzz on Twitter had spawned at least four trending hashtags related to the story, including #FreeBieber, #FreeJustinBieber, #WeWillAlwaysSupportYouJustin, DUI and #DeportBieber, while the keyword "Justin Bieber" instantly shot up to the most searched term of the day on Google Trends.
White House Deportation Petition
Also on January 23rd, shortly after the hashtag #DeportBieber became a globally trending topic on Twitter, a petition calling for the revocation of the singer's permanent residency and deportation from the United States was submitted to the White House "We the People"[62] website.

On January 27th, actor Drake Bell urged his 2.9 million Twitter followers to sign the Bieber deportation petition. Within 72 hours, the tweet accumulated more than 2,000 retweets and 1,600 favorites.
https://t.co/dUmUrRkKxZ become a part of the movement!!!

— Drake Bell (@DrakeBell) January 27, 2014
By early afternoon on January 29th, the petition had collected more than 100,000 signatures, reaching the minimum threshold needed to summon an official response from the White House. That same day, ABC News[63] reported on the petition, quoting an official statement from the State Department spokeswoman Jen Psaki:
"We're getting down quite a rabbit hole here with Justin Bieber, but … I will check and see what the visa implications would be for anybody who is found of possibly violating the law."
By the following day, the petition reached upwards of 200,000 signatures.
Arrest in Toronto
On January 29th, Bieber turned himself into the Toronto police station for allegedly assaulting a limo driver on December 30th, 2013.[64] According to the police report, the driver was struck in the back of the head outside of a Toronto nightclub.
"While driving the group to a hotel, an altercation occurred between one of the passengers and the driver of the limousine. In the course of the altercation, a man struck the limousine driver on the back of the head several times. The driver stopped the limousine, exited the vehicle and called police."
On the following day, Toronto mayor Rob Ford defended Bieber during an interview on the Washington,D.C.-based radio show The Sports Junkies.[65]
"He's a young guy, 19 years old. I wish I was as successful as he was."
Deposition Video Leaked
On March 10th, 2014, TMZ[66] obtained and released several clips from a copy of Justin Bieber's deposition video that was filmed as part of the paparazzi suit filed against him by a Miami photographer. The clips show Bieber in visible distress, appearing angry, arrogant and impatient throughout the process, which reportedly lasted four and a half hours.
The deposition video also revealed several vulnerable moments of the 20-year-old singer. When asked if he has a prescription for Xanax, Bieber replied "no sir" before his lawyer could object, inadvertently admitting to the illegal use of the prescription drug on the night of his arrest. Upon being asked about Usher's influence on his career, Bieber at first responded "I was found on YouTube. I think that I was detrimental to my own career," mixing up the words detrimental and instrumental, before admitting that Usher had played a role in his breakout.
Bieber: "Usher, yeah that sounds familiar."
Lawyer: "Isn't it true that Usher was instrumental in starting your career?"
Bieber: "I was found on YouTube and I think I was detrimental to my own career."
Throughout the day, the TMZ clips were swiftly picked up by the celebrity gossip blogs and news sites[67][68][69], with many headlines describing the singer's deposition as 'bratty,' 'defiant,' and 'arrogant,' while the Los Angeles Times[70] and Gawker[71] referred to it as 'hilarious' and 'the best thing he's ever done.' In addition, Gawker's Defamer posted numerous GIFs of Justin Bieber from the deposition video.




Racist Joke Video Controversy
On June 1st, 2014, British tabloid newspaper The Sun[72] released a video clip of a 15-year-old Justin Bieber telling a racist joke to his friends. In the clip, the baby-faced singer can be heard repeating the word "ni**er" as part of the punchline:
According to TMZ[73], the video was shot in the backstage during a promotional event in 2009 for the singer's concert documentary Never Say Never and the celebrity gossip blog further claimed that it had obtained the footage four years ago, but decided not to post it online due to his minor status at the time. Later that same day, as the video continued to make headlines on the celebrity and entertainment news blogosphere, Justin Bieber issued a public apology[74] to acknowledge that his joke was a "childish and inexcusable mistake."
As a young man, I didn't understand the power of certain words and how they can hurt. I thought it was ok to repeat hurtful words and jokes, but didn't realize at the time that it wasn't funny and that in fact my actions were continuing the ignorance.

Thanks to friends and family I learned from my mistakes and grew up and apologized for those wrongs. Now that these mistakes from the past have become public I need to apologize again to all those I have offended."

I'm very sorry. I take my friendships with people of all cultures very seriously and I apologize for offending or hurting anyone with my childish and inexcusable mistake. I was a kid then and I am a man now who knows my responsibility to the world and to not make that mistake again.

Ignorance has no place in our society and I hope the sharing of my faults can prevent others from making the same mistake in the future. I thought long and hard about what I wanted to say but telling the truth is always what's right."

Five years ago I made a reckless and immature mistake and I'm grateful to those close to me who helped me learn those lessons as a young man. Once again….I'm sorry.
Orlando Bloom Fight
On July 29th, 2014, TMZ[75] featured a video that allegedly shows English actor Orlando Bloom lunging at Justin Bieber at a nightclub in Ibiza, Spain. According to TMZ, several eyewitnesses reported that Bloom tried to attack the singer after taunting him about having an inappropriate relationship with his former wife, Miranda Kerr, while the two were married in 2012.
We're told Justin ducked the punch. That's where the video starts and you hear Justin scream, "What's up bitch?" We're told when Bieber left the crowd applauded.
On the following day, TMZ, Perez Hilton and other celebrity news and gossip sites reported that Bieber responded by sharing a photograph of Kerr in a bikini suit and a picture of Bloom crying on Instagram (shown below, left & middle) only a few hours after the incident took place, although both were deleted shortly afterwards. Also on July 30th, Redditor TheBobHatter submitted an animated GIF of two children fighting in protective gear in an /r/funny[76] post titled "Here is the full Justin Bieber vs Orlando Bloom fight," which received upwards of 2,300 votes (83% upvoted) in the first four hours (shown below, right).



2015 MTV Video Music Awards
On August 30th, 2015, Bieber attended the annual MTV Video Music Awards ceremony, where he performed the songs "Where Are U Now" and "What Do You Mean." Following the performance, Bieber thanked God and began crying on stage (shown below).

That evening, image macros began circulating which mocked Bieber's hairstyle displayed at the ceremony, with many comparing it to styles associated with middle-aged women (shown below).[78][79][80] In the coming days, several news sites published articles about the online reaction to Bieber's hair, including Time, Mirror, E! Online and IBI Times.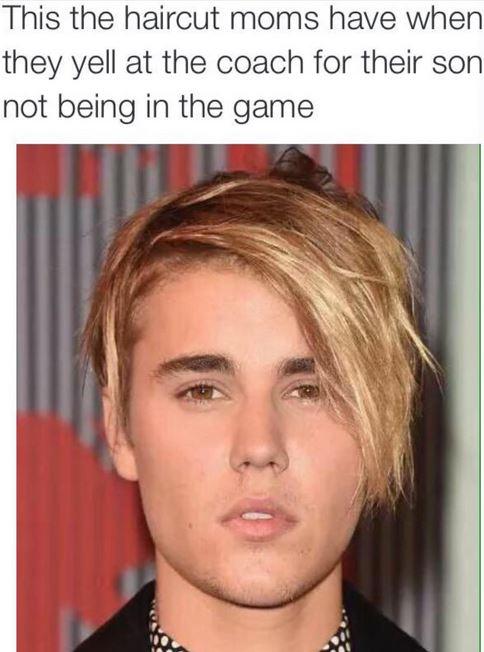 Nude Photo Leak
On October 7th, 2015, Users began sharing nude photos of Justin Bieber, obtained from paparazzi, and taken while Bieber was vacationing with model Jayde Pierce on the island of Bora Bora. The photos were blurry and taken with a telephoto lens, but showed Bieber's genitals and buttocks clearly. The photos immediately began trending on both Twitter and Facebook. Mentions of Bieber on Twitter alone went from around 50,000 per day to almost 200,000 per day in the 24 hours after the release. The photos were written about in the media by many gossip publications, including TMZ, Perez Hilton, and People Magazine.
Users immediately began altering the photos, both to censor them for social networks with obscenity guidelines and also for humorous purposes. Some popular modifications included photoshopping the photos to look like the Kim Kardashian Paper Magazine Cover or using the eggplant emoji.



Australian Pedophile Story
On January 16th, 2017, TMZ[81] reported that police had arrested Australian man Bryan Asrary for extorting young girls for nude photos by posing as Justin Bieber. Asrary would monitor Bieber's Instagram account and message girls commenting on the photos claiming he could arrange a text meet-up between them and Bieber, then, posing as Bieber, demand nude photos. When confronted by police, Asrary confessed to extortion. On March 8th, 2017, Billboard[82] reported that Asrary was charged with 931 counts of child sex offenses. In a statement, Detective Inspector Jon Rouse said "This investigation demonstrates both the vulnerability of children that are utilising social media and communication applications and the global reach and skill that child sex offenders have to groom and seduce victims."
Bieber Burrito Prank
On October 24th, 2018, Redditor[83] personal_ac posted a photograph of Justin Bieber "eating a burrito sideways" in the /r/mildlyinfuriating subreddit. The post received more than 14,000 points (91% upvoted) and 870 comments.
The following day, on October 25th, Vice editor Ryan Bassil tweeted[84] a photograph of Justin Bieber eating a burrito from the center. He captioned the tweet, "does….justin bieber not know how… burritos work ?" The tweet received more than 5,500 retweets and 36,000 likes in three days (shown below).

Days late, on October 28th, YouTube channel Yes Theory entitled "We Fooled the Internet w/ Fake Justin Bieber Burrito Photo." The video shows that the photograph was a prank and that the picture featured a Justin Bieber lookalike named Brad Sousaa and was designed to fool people. The post received more than 1.2 million views in 24 hours.
Search Interest
External References