About
Days Without Sex refers to a Twitter snowclone in which a person writes that they've gone a certain amount of days without sexual intercourse, and due to the extended period of time, have begun experiencing strange things or resorted to desperate measures. While the format began seeing use in the mid-2010s, it grew popular in the summer of 2018.
Origin
While the first tweet to use the format is unknown, examples of the joke can be found as early as February 2016. On February 1st, 2016, Twitter user @SexyMixedMan[1] posted an example of the format (shown below).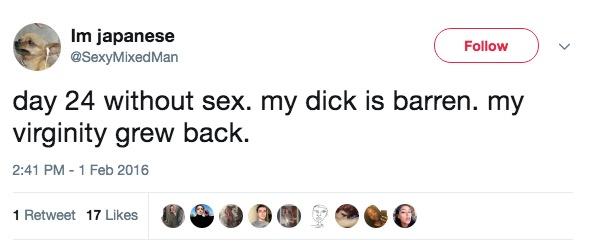 Spread
The format began seeing more use in late 2017 and early 2018. On December 12th, 2017, Twitter user lotusly6 posted a joke that gained 6 retweets and 38 likes (shown below, left). On January 4th, @ElleBreaunn made a tweet that gained 20 retweets and 55 likes (shown below, right).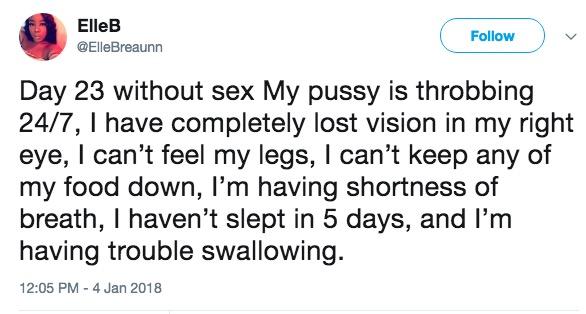 By the summer of 2018, the format had become popular on Twitter, with several tweets in the format gaining thousands of retweets and likes. As the meme spread, the joke results of the prolonged celibacy got more surreal. For example, a July 16th tweet by @john_silcox referencing Mario Kart gained over 490 retweets (shown below, left). A July 17th tweet by @Caolan_Walsh gained over 2,000 retweets and 11,000 likes (shown below, right). Around this time, the spread of the memes was covered by Cosmopolitan,[2] The Daily Dot,[3] Daily Record,[4] and others.


Various Examples






Search Interest
External References